Gerber Goes 3-D With Browzwear Alliance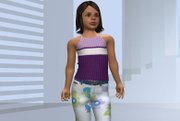 Tel Aviv, Israel–based Browzwear Ltd. will supply Gerber Technology Inc. with its V-Stitcher 3-D visualization solution.
Gerber has integrated VStitcher into its AccuMark pattern-design, grading and marking system to allow users to visualize garment modeling in 3-D form and cut production times. Gerber and Browzwear are developing an enhanced interface that will achieve seamless integration of the products. In addition, the companies are planning to integrate V-Stitcher into Gerber's WebPDM product-lifecycle management solution.
V-Stitcher allows designers to create a virtual garment from a 2-D pattern and drape the garment over a 3-D body image. This reduces product-approval and production times by allowing the entire supply chain to visualize products and collaborate simultaneously without having to create product samples, said a Gerber spokesperson.
"This alliance represents the first milestone in the relationship between Gerber and Browzwear," said James Arthurs, president of Gerber Technology. "We look forward to continuing ongoing technical collaboration as we promote the advanced 3-D capabilities of the Browzwear product through our organization." —Robert McAllister