FIDM Exhibit Focuses on Home and Fashion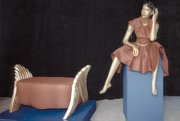 The Fashion Institute of Design & Merchandising (FIDM) will host a joint exhibition of its Chairing Styles exhibit and the work of its graduating textile design students.
The Chairing Styles project is a collaborative effort between FIDM's interior design and fashion students in which each pair of students creates a coordinating chair and ensemble.
The textile design students' work encompasses both apparel and interiors fabrics, and includes knit apparel and fabrics, surface design and computer-aided design.
The exhibitions opened on June 19 and run through July 11 at the FIDM Museum & Galleries at FIDM's downtown Los Angeles campus. For more information, call (213) 624-1200. —Alison A. Nieder