Love and Haight: Eclectic to the Extreme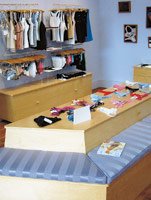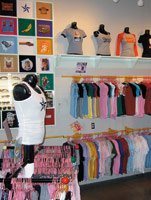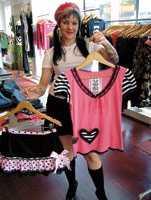 The French call it flacirc;nerie, the gentle art of strolling the urban metropolis with no particular destination. In the parlance of the marketplace, we call it window-shopping.
San Francisco's Haight Street is a treasure for the modern flacirc;neur. Exemplifying San Francisco's quirky eclecticism, Haight encapsulates the city's history, loaded with Barbary Coast baggage that is both shoeless vagabond and nouveau riche first class. Hippies and Rastafarians, punks and teenage runaways, camera-toting tourists and high-tech entrepreneurs all walk side by side, while retailers ranging from Stussy and the Gap to trendy boutiques stand next door to head shops, tattoo parlors and Bound Together, an anarchist bookstore.
The spirit of retro hangs as thick over Haight as the fog, from the neo-hippie stores selling incense and Siamese bric-a-brac to Club Deluxe, headquarters for the cocktails- and-cufflinks swing revival. At 1603 Haight St., Bang-On offers instant retro served with an ironic smirk. With various locations worldwide, the Canadian chain lets customers choose from a range of T-shirt styles and dozens of '70s and '80s heat transfers, which are applied to the shirts on site for a postmodern spin on custom tailoring.
The street's vintage offerings are many and include the gigantic Aardvark's, plus Held Over, Buffalo Exchange, Wasteland, Crossroads Trading Co. and several smaller shops with more rarefied offerings. On the contemporary side, True (1415 Haight St.) carries urban brands for men, women and kids, and Villains (1672 Haight St.) offers trendy clubwear.
Ambiance has plenty of it. At 1458 Haight St., the colorful and spacious store aims for a romantic vibe—and succeeds in the seduction. A floral oasis amid Haight's edgier elements, 16-year-old Ambiance offers Trina Turk, BCBG Max Azria and Sue Wong dresses that "look great on everyone," said assistant manager Jeanny Chavez. Especially hot are cashmere and silk asymmetrical ponchos by Fetching, plus anything by San Francisco local Pink Spike.
Ponchos are also popular at Jaxx, located at 1584 Haight St. Bright rather than rustic, Shine's ponchos appeal to "a younger, hipper customer," said saleswoman Mandy Lyden. Long ponchos by Godis even come with instruction manuals detailing multiple ways of wearing the garments. Most customers are pairing them with denim, Lyden said, but are dressing them up with brooches.
Also selling well at Jaxx are Cigana's limited-run tops with vintage flair and Jessica Louise's '80s-inspired skirts and tops in black and pink.
In business for 11 years, Behind the Post Office at 1510 Haight St. is checking denim by Seven for All Mankind and anything from Twelfth Street by Cynthia Vincent. Chicago-based Anna Joyce's appliqueacute; T-shirts and hoodies are also hot, as are handbags from London's Orla Kiely.
Clobba has three San Francisco locations, including one at 1604 Haight St. The store's top sellers are vintage stretch-lace shirts by Tea, which manager Ten Mendoza calls "inexpensive copies of what's on the runway." Also popular are knee-length jersey skirts from various manufacturers and Doki Geki's white embroidered trench coat.
Haight Street suffered a rash of vacancies following the dot-com meltdown. Three months ago, Iris filled one of them at 1472 Haight St. The intimate store for intimates carries Cosa Bella, Only Hearts and Eberjey. Iris specializes in looks that are natural, understated and slightly vintage, not femme fatale glamour. Shoppers are opting for chiffon mesh two-piece sets combining camis and boyshorts, which they are wearing as sleepwear. Hot colors include pink and Jaxx saleswoman Mandy Lyden showing celery green.