Queen of the Meadow Claims S.F.'s Indie Style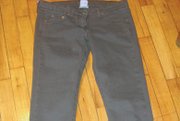 If tourists visiting San Francisco want to track down remnants of the Summer of Love era, they visit the city's Haight-Ashbury district. The epicenter of this influential 1960s scene was located in this still-colorful neighborhood. But they won't necessarily find the fashions of that era at boutique Queen of the Meadow, just a few blocks away from the famous intersection of Haight and Ashbury streets.
Owner Susan Jones aspires to capture the current spirit of San Francisco by specializing in fashions of more than 20 Bay Area designers, such as Deanna Bratt and Ibi Couture. Yet Jones warns that distilling the spirit of San Francisco doesn't mean there's an easy way to describe it. "It's hard to say if there's one San Francisco style. There are so many different groups of people here," she said.
Jones has found that her clientele is guided by a passion for unique styles. Since 2001, she has opened two other boutiques specializing in new San Francisco designers. She took over ownership of the 900- square-foot Queen of the Meadow in November 2004.
Despite an allegiance to San Francisco designers, the boutique's top-selling item is from Australia. It's the Frayed Misfit, a straight-legged jean from Sydney, Australia–based label Sass & Bide, which retails for $220. If these straight-legged jeans outsell boot-cut jeans, Jones forecasts that high-waisted jeans are going to be the next big sellers at her store. "We're going to get higher-waisted jeans from Grey Ant. [Grey Ant] just flows out of the store," she said. —Andrew Asch