Sleek Design Crafted From Bloomingdale's Old Looks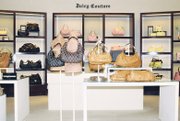 Bloomingdale's Inc. is exporting its remodeling program at its New York flagship store on 59th Street to Southern California.
When things needed a face-lift, the luxury department store gave New York–based architecture company Mancini Duffy the assignment to create a new, more organized look for its cosmetics, jewelry and handbag sections at the store that is a Manhattan institution.
This fall, Bloomingdale's in Newport Beach, Calif., will bring Mancini Duffy's sense of organization to its cosmetics, jewelry and handbag areas. Last fall, Bloomingdale's Los Angeles store at Westfield Century City got a similar makeover.
Coming up with a successful remodeling strategy that unified the cosmetics sections with the accessories area was a creative challenge, said Ed Calabrese, creative designer of Mancini Duffy's retail group.
"Cosmetics departments are often a cacophony of design," he said. "There's never been consistency to them."
Calabrese's team worked with Bloomingdale's New York–based visual display executives to mint the new look. In Century City the cosmetics area expanded to more than 10,000- square-foot, and the jewelry and handbags sections expanded to 5,000-square-foot.
The mission was to create a look that would bespeak the luxury heritage of the Bloomingdale's brand, while allowing for the constant change of new product.
The design team found the solution at their feet—literally.
Calabrese took inspiration from the blackand- white checkerboard tiles that grace the floors of the 59th Street Bloomingdale's store. He used the stark, dramatic colors as a touchstone for a series of black lacquered cabinets, showcases and alcoves that line the cosmetics area as well as the jewelry and handbags areas.
The cabinets were the key to creating a much more organized look, Calabrese said. Products are displayed in them. Different brands dominate specific ones, but the cabinets give a much more streamlined, unified feel to the departments. The cleaner, more organized look makes it easier for the customer to shop, Calabrese said.
The cabinets are backlit with a white light. They rest on black-and-white floors.
"Black-and-white is very dramatic," Calabrese said. "But at the same time, it is very tolerant of other color mixes." —Andrew Asch