Hip City to Meet Hip Brand Store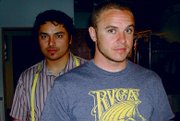 As they say in real estate, "Location, location, location."
With that in mind, RVCA, the edgy and art-driven apparel company based in Costa Mesa, Calif., is opening its very first retail store in July, far, far away from its Orange County roots.
The multimillion-dollar company is taking its budding retail concept on the road to San Francisco's Haight-Ashbury District, an appropriate spot for the iconoclastic brand that refuses to be pigeonholed with other surf and skate apparel companies.
San Francisco is far from Velcro Valley, the industrial-park area in Orange County that houses youth-oriented surf labels such as Quiksilver and Billabong. But it might be the perfect place for a company such as RVCA (pronounced "RUCA") to dip into the retail waters. The city, with its mix of artsy types who hang out at coffee shops and a climate that is more winter than summer, has a penchant for unconventional brands. And that is where RVCA comes in.
The company makes a point of using artists' work to emblazon its T-shirts, hats and vast selection of items. It produces a free magazine called the ANP Quarterly and sponsors something called the Artist Network Program.
The new store will be on the corner of Haight and Ashbury streets, taking over a spot long anchored by Gap Inc., a not-so-artsy retailer whose corporate-like image rubbed many boho shoppers the wrong way.
"Nobody liked the Gap being on Haight Street," said Jeremy, who works at FTC, a skateboard store a few blocks down the street from the shuttered Gap boutique, and didn't want his last name mentioned.
"Haight-Ashbury is very negative to any formula retail," said Ted Plant, a longtime retail real estate broker in San Francisco.
Pat Tenore, the surfer who founded RVCA in 2001, said he selected San Francisco for his first retail location because of its independent, free-thinking community. "Besides being a beautiful city, there is a lot of support in the community for the artist and a lot of history," he wrote in an e-mail. "I also have a childhood connection with the city, as I grew up in the Bay Area."
The new store will encompass 6,000 square feet. One half will be devoted to retail, and the other half will be dedicated to an art gallery.
Up until now, the company's line of vintage-wash T-shirts, jeans, shorts, fleece hoodies, shirts and caps have been sold at surf and skateboard shops around the country, as well as at contemporary clothing shops such as Madison and American Rag in Los Angeles.
Integrating artists and their art into products has been a major focus of the company. RVCA's Artist Network Program underwrites regular art exhibits and showcases artists' creations on its apparel.
Tenore isn't sure whether he will expand the RVCA retail concept beyond the city, which attracts domestic and international tourists alike. But it's a good start.
Several clothing makers have jumped on the retail bandwagon to spotlight their wares. Los Angeles–based blue-jeans maker True Religion stores have been popping up in major retail areas. Volcom, another Orange County surf and skate label, has four stores sprinkled across California and a fifth planned for Hawaii. American Apparel, which makes T-shirts, jeans, dresses and other goods in its downtown Los Angeles factory, now has hundreds of stores around the world. Founder Dov Charney said he opened his own stores because he had a hard time getting retailers to buy his merchandise.
Observers in the retail industry note that setting up stores can help improve manufacturers' profit margins.
"When you have your own store, you get to manage the process of showing the brand better than when you wholesale it to a retailer. You have a vision for the brand," said retail analyst Jeff Mintz of Wedbush Morgan Securities in Los Angeles. "In addition, the stores tend to be good for advertising your brand. If you put the stores in an area where people will see them, you can drive sales of your brand elsewhere."
Two wave riders
A year after Tenore started RVCA, he pulled in fellow surfer and longtime friend Conan Hayes as a partner. Tenore's vision was to create a design-driven brand without compromising its active-lifestyle roots.
Art was an essential ingredient. The sportswear label draws its inspiration from underground graffiti writers such as Eklips and artists such as Mark Mothersbaugh, founder of the 1980s music group Devo.
Tenore, in his 30s, has a long history in the retail and apparel industry. As a teenager, he was working in a surf shop called Corona Del Mar Beach Club when he met designer Austyn Zung in the 1980s. He became her scout for youth trends and got his share of lessons in sewing and designing at Zung's studio.
In 1991, he took $20,000 earmarked for college tuition and opened a 1,500-square-foot store called 145 Store in Costa Mesa. He later merged the shop into another retail operation, called Stateside. He left to launch his own label, called PM Tenore, which failed.
But when he and Hayes hooked up to start RVCA, everything started to click.
The company has gotten lots of media buzz, including a profile published in the New York Times.
The partners have garnered a following for their underground, anti-establishment ways that will fit perfectly in San Francisco.