Pioneering Theodore Boutique Exits Rodeo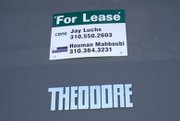 Theodore was one of the pioneering boutiques on Rodeo Drive. It is one of the last multi-brand fashion stores on the world-famous luxury retail street in Beverly Hills, where it has been doing business since 1969. Yet next month will mark the end of an era for Theodore when the store moves to 336 N. Camden Drive, according to Leslie Le Tellier, vice president of the boutique.
While located only a few blocks away from Rodeo, North Camden offers a world of difference in rent, according to Chuck Dembo, a partner with commercial real estate firm Dembo & Associates, based in Beverly Hills. Rents on North Camden are $7 per square foot, compared with Rodeo, where rents are $45 per square foot, Dembo said.
There are nine Theodore boutiques in the Los Angeles area, but the decision to move the Beverly Hills store was prompted by a need to find the best boutique neighborhood for a multi-line store such as Theodore, according to Le Tellier. The retail personality of Rodeo has become too corporate, she said.
"It has become predictable," she said, describing Rodeo's early days as "like an artist colony for retailers" when the street was buzzing with multi-brand boutiques. Le Tellier said the Rodeo Theodore store has been a destination for a couple of generations of Beverly Hills fashion shoppers.
While the street has been dominated by flagship stores for luxury brands such as Prada, Chanel and Brooks Brothers as well as flagships for brands such as Bebe and Juicy Couture, Rodeo still offers a lot of sizzle, said Randy Soto, former president of the merchant group Rodeo Drive Committee.
"If it were boring, these large corporations would not be coming to Rodeo," Soto said. "Beverly Hills is not as unique as it used to be. But Beverly Hills offers tremendous choices." —Andrew Asch