Mad Men Myself? Oh Yes, I Did.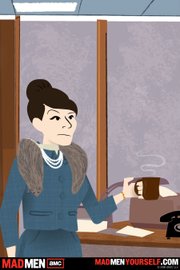 I think I actually have this suit...

I can't believe I had to read about this secondhand.
Salon.com's Broadsheet blog is always a treasure trove of informative/outrageous/shocking/absurd information. And now it led me to this delightful site.

I've been hotly anticipating the premiere of the third season of "Mad Men" on AMC, which I've been following as much for the addictive storyline as for the divine early-'60s fashions and the architecture and the dialogue. (Costume designer Katherine Jane Bryant won the Costume Designers Guild award for "Outstanding Costume Design for a Television Series" in the period/fantasy category earlier this year.)
But now, to tide me over, AMC is allowing me to enter the "Mad Men"world—sort of. (Actually, it's allowing me to turn myself into a Shag illustration. But that's okay, too.)
In the full-screen version, I've got my coffee and newspaper (natch).