L.A. Designer Kevan Hall Opens Gallery Space in Malibu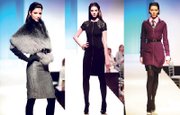 Kevan Hall's designs were recently seen on the runway at The Colleagues event during L.A. Fashion Week in March. (Photo by Volker Corell)

Kevan Hall is moving to Malibu—at least, temporarily.
The designer, whose creations have been a fixture on the local catwalk, leased a space at the recently opened Malibu Lumber Yard for a temporary gallery that will be his first venture in this mode of merchandising.
"I wanted to reach out to some areas I have not in the past, and I felt this Lumber Yard is an incredible new retail destination," said Hall, who is recognizable by his long dreadlocks and haunting gaze. "There was an open space available, and we were able to secure this to do this retail gallery."
Hall is running his gallery store, open June 18–21, in conjunction with Mikimoto, which has been selling cultured pearls for decades.
Both the designer and the jewelry purveyor are putting together a more resort-like collection to appeal to the laid-back, sun-kissed crowd that hangs around the beautiful beaches there.
Hall has created some cotton sundresses in sherbet colors that will retail for $400 and signature blouses, some made of imported silk taffeta, going for around $600.
Hall will be there on Saturday (June 20) and Sunday (June 21) from 2 to 5 p.m. to talk about fashion and his designs. An opening-night cocktail party from 5 to 7 p.m. on June 18 will help raise awareness for the Friends of Malibu Urgent Care. There will be a book signing by author Jodi Wing, who wrote "The Art of Social War," from 5 to 7 p.m. on June 21.