L*Space to Be Highlighted at Mercedes-Benz Fashion Week Swim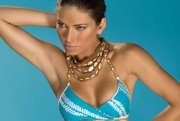 Monica Wise's sexy L*Space swimwear line has been named the "Mercedes-Benz Presents" brand for the Mercedes-Benz Fashion Week Swim Miami shows, set for July 15–19. The honor—which in the past has been given to brands such as Monique Lhuillier, Badgley Mischka, Yigal Azroueuml;l, Red Carter and CHADO Ralph Rucci at other Mercedes-Benz Fashion Week events—"provides support to designers that demonstrate dedication to quality materials, unique style and innovative design," a release from the fashion week's title sponsor said.
This is the latest accolade for the Irvine, Calif.–based brand. The brand has earned the coveted "Women's Swim Brand of the Year" award from the Surf Industry Manufacturers Association in 2007 and 2008 and is currently nominated for SIMA's 2009 award for both "Swim Brand of the Year" and "Best Marketing Campaign."Wise hopes the "Mercedes-Benz Presents" honor will draw attention to her latest project, a capsule collection created in collaboration with OmniPeace, a humanitarian fashion brand that donates 25 percent of profits to charities promoting peace, human rights, education and the end of extreme poverty in Africa by 2025.
Inspired by the African desert and ocean, the designs are named after African villages affiliated with OmniPeace and feature coconut detailing and bone-like motifs. L*Space for OmniPeace will retail for approximately $130, with 20 percent of all proceeds going to support OmniPeace's many efforts in Africa.
"I am thrilled to be a 'Mercedes-Benz Presents' designer and to have their support during this major industry show, not only for my swimwear designs but for my philanthropic collaboration with OmniPeace," Wise said. "While my designs for L*Space make women feel luxurious, sexy and beautiful, I hope that our connection with OmniPeace also inspires them to make a difference and give back." —Erin Barajas