Eco Focus: Hold the Stoner Jokes. Jungmaven Sees Market in Hemp Tees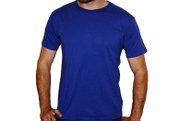 Rob Jungmann sells blank T-shirts made out of soft fabric. This description alone should perk interest in many retailers. However, Jungmann said he occasionally runs into a snag when he gives the full description of the blank tees in his Jungmaven Ltd. line. The collection made its California debut in June 2008, when he moved his company to Santa Barbara from Seattle.
The T-shirts are made out of hemp—a word that raises eyebrows at the mere mention. The cultivation of industrial hemp is illegal in the state of California and much of the United States. In 2007, Gov. Arnold Schwarzenegger vetoed AB 684, a bill that would have legalized industrial hemp. Schwarzenegger gave his veto because federal law considers hemp a marijuana plant, even if the THC level in hemp is negligible.
But the sale of hemp goods is legal in California, and there's a growing market for hemp product such as soaps, foods and apparel. Likewise, there is no law against importing hemp fabrics into the United States. Jungmann purchases the hemp viscose material for his shirts from China. Despite enduring occasional snickers about hemp, Jungmann is gambling there is a niche for hemp fashion and his small line could take some market share.
Jungmann's gambit for this market share is the Jungmaven basic tee. It's a T-shirt that comes in long-sleeve and short-sleeve styles for men and women. There is variety in the line's hemp fabric blends, too.
Jungmaven offers 100 percent hemp viscose shirts, which have a silky hand. The line also offers a 60 percent organic cotton/ 40 percent hemp viscose style. Wholesale price points for the shirts are $5 to $14. The Jungmaven line also offers the shirts in 22 colors. Since its debut, he has sold it in independent activewear shops such as Shasta Base Camp in Shasta, Calif.
Despite the challenges, Jungmann continues to believe in hemp's potential because he is an activist for the plant and he's made a good business out of it in the past.
During his college days at Central Washington University, he studied the ecological benefits of hemp. He came to believe it is a plant that can be used for a variety of products and does not demand as many resources for its cultivation as other plants, such as cotton.
In 1992, he started selling hemp wallets at Grateful Dead shows. He developed the business and started manufacturing jackets, hoodies and even skateboard decks for his Seattle-based company, called Manastash. He sold the company to a Japanese department store in 2004. Since then, he has been operating a hemp e-commerce Web site, www.twojupiters.com.
Whether hemp is beginning to shake off its stigma is up for discussion. Karen Meena, a buyer at Fred Segal retailer Ron Robinson, said some of her customers dismiss hemp as a niche hippie fabric. For Mark Werts, founder of the American Rag boutiques, hemp fabric will be embraced when it is used in beautiful fashion. "We're interested in aesthetics," Werts said. "If it falls into our aesthetics, we'll embrace it with open arms."
For more information, call (805) 845-8934 or e-mail laura@jungmaven.com. —Andrew Asch