RVCA x TheCobraSnake: Just What You'd Expect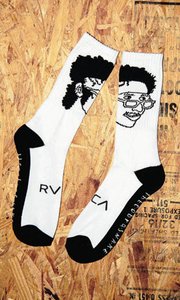 If you follow Mark Hunter, aka The Cobra Snake, then his off-the-wall 15-piece collaboration with RVCA makes total sense.
A longtime friend of the surf/skate brand brand, Hunter is known for his ever-present camera (which he keeps pointed at the coolest of the cool kids) and his wacky sense of style. The man has been known to show up to parties wearing little more than Dolphin shorts and sneakers. And, since launching a series of quirky T-shirts on his party-pic site(www.thecobrasnake.com) in 2005, fans have collected them as one might collect band T-shirts.
Now, RVCA and Hunter are launching RVCA x TheCobraSnake for Summer 2010. Only the second of such collaborations for RVCA (its first is the lauded Erin Wasson x RVCA collection), the TheCobraSnake collection, will sell at a higher price point than the bulk of RVCA's core offerings and will have a much tighter distribution, limited to upscale specialty stores, www.thecobrasnake.com. Brian Garofalow, RVCA's marketing director, said the launch of the collection will be hosted by the uuml;ber-chic Colette boutique in Paris.
Set for a one-season run, the TheCobraSnake collection features men's and unisex T-shirts, woven shirts, denim, shorts and accessories. Hunter, reached in Tokyo, where he is planning a party, said he thinks fashion is too serious. "I want my stuff to reflect my perspective, which is fun and zany." The inspiration for his line, he said, comes not from the fashion plates he photographs all over the globe but from his own off-beat sense of style. "I got to put my own personal style into the collection and support the trends I'd like to see. I want it to look like what I wear—loud but not obnoxious." The brand will also benefit from Hunter's photography and hipster cred. To launch the line, he will feature it in a photo shoot and produce a video to help market the collection.
Wholesale prices range from $14 to $42 for tops, $27 to $65 for bottoms and $6.50 to $12 for accessories. Featuring names such as "Your Feet Stink" and "Burger in My Pant," the pieces are as quirky as their monikers. One T-shirt features the body of a cartoon snake super-imposed on an American flag that makes the wearer's head appear to complete the snake. A pair of socks features an image of Hunter himself. Talk about giving yourself a leg up. For more information, call (949) 548-6223.—Erin Barajas