2010 Retrospective: Retail Sales--Majors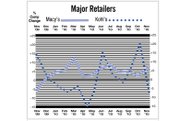 The gamble might have finally paid off for Macy's Inc.
In 2010, Macy's started reporting consecutive same-store-sales increases after years of sales doldrums following the department store giant's 2005 acquisition of The May Department Store company for $11 billion in stock.
To turn around the company, Macy's Chairman, President and Chief Executive Terry J. Lundgren has been instituting big reforms for the 850-store chain, which runs stores under the nameplates of Macy's and Bloomingdale's.
According to prominent retail analyst Michael Exstein of Credit Suisse, this year, Macy's finally turned a corner.
"The company continues to shrug off the past as merchandise improves, driven by its single operating structure, while having the financial flexibility to deleverage its balance sheet," Exstein wrote in a Nov. 10 research note.
In August, Macy's debuted its exclusive Material Girl juniors collection, created by Madonna and Iconix Brand Group. The launch included in-store events around the country and led to a 4.3 percent uptick in Macy's same-store sales that month followed by a 4.8 percent increase in September and a more moderate 2.5 percent gain in October.
Macy's good news continued into the holiday season. The retailer's same-store sales increased 6.1 percent in November compared with the same time in the previous year. In his comments about November's successful sales, Lundgren also noted that his vision to make Macy's a national brand offering a local focus in each market had found success. "Throughout 2010, we have gained confidence and momentum as customers have responded favorably to our execution of key strategies developed and activated over the past few years," he said.
The past year was a steady one for Kohl's Corp., the Menomonee Falls, Wisc.–based specialty department store retailer operating 1,089 locations. With the exception of a few months, Kohl's reported a same-store-sales increase in the low single digits. "Kohl's continues to demonstrate consistent market-share gains across businesses and regions while investing in its longer-term strategy," Exstein wrote in an Aug. 12 note.—Andrew Asch