Attendance Up by 20 Percent at Texworld USA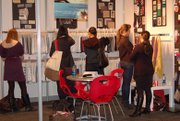 Texworld USA, the New York–based textile trade show run by Messe Frankfurt USA, saw attendance surge over last year at its Jan. 19–21 show at the Jacob K. Javits Convention Center.
Organizers said the recent show saw 20 percent more attendees than the February 2009 edition and 5 percent over the January 2008 show. (Texworld USA's February 2009 show drew 2,031 attendees from 25 countries.)
"The record attendance we achieved at last week's edition of Texworld USA confirms that the market in the U.S.A. is coming back," said David Audrain, president of Atlanta-based Messe Frankfurt USA, a division of Germany-based Messe Frankfurt Group, which produces more than 90 trade events annually.
At the January show, Austrian fiber maker Lenzing, makers of Tencel and Modal, again partnered with Texworld by hosting its Lenzing Innovation pavilion to highlight the company's latest offerings. The fiber maker also hosted a slate of seminars covering everything from sourcing, sustainability and trends to business strategies and innovations in knitwear.
Texworld's lineup highlights fabric and trim resources from around the world. At the January show, Lenzing put the spotlight on domestic resources. Eight North American companies—Buhler Quality Yarns, Design Knit Inc., Fessler USA, Manoir Inc., Laguna Fabrics/Enviro Fabrics, Mansfield Textile Inc., Pacific Coast Knitting Inc. and Tuscarora Yarns—participated in the Lenzing Innovation pavilion.
Show organizers have plans to expand the offerings for Texworld USA's next show July 13–15 in New York. Messe Frankfurt USA will launch two new concurrent shows targeting sourcing executives and the home textiles market.
"With the launch of our new International Apparel Sourcing Show and Home Textiles Fabric Sourcing Expo to run alongside the July 2010 Texworld USA, we expect to bring even more qualified buyers than ever before to New York this July," Audrain said.
International Apparel Sourcing Show will be a sourcing marketplace for American manufacturers, trading companies, wholesalers, retailers, agents, designers and buying offices looking for apparel manufacturers to source finished goods or contract manufacturing. The Home Textiles Fabric Sourcing Expo will offer fabric and material sourcing for home products, such as linens, towels, pillows, window coverings and furniture.
The two new shows are to be launched in partnership with the Sub-Council of Textile Industry, China Council for the Promotion of International Trade. CCPIT TEX, an exhibition organizer for the textile and apparel industry in China, will help bring a group of textile manufacturers from China. Messe Frankfurt will recruit companies from other textile manufacturing centers.—Alison A. Nieder