Apparel Makers Taking a Fresh Look at Central America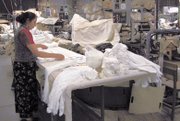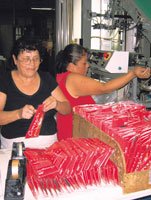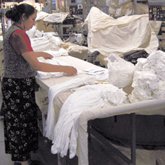 GUATELMALA CITY—For several years now, Nothin' But Net Clothing Co. has been making its activewear, T-shirts, denim and other young men's clothing in China, Pakistan, India, Bangladesh and Egypt.
The idea of manufacturing in Central America was never center stage in Amul Ngamjiraphak's mind. At least not until recently.
But here was the pony-tailed president of the Southern California apparel company, walking up and down the aisles of the Apparel Sourcing Show, jotting down information and stapling business cards into his dime-store spiral notebook as he reconsidered manufacturing a little closer to home. "I wanted to check the region out," said Ngamjiraphak, whose company in Cerritos is the official licensee of the Street Basketball Association and whoselabels include NBNGear and Blue Gear. "There is no duty to pay on goods manufactured in Central America, and India, Pakistan and China are getting expensive."
With Chinese apparel and textile factories experiencing rising wages and a labor shortage, Central America is finding renewed interest in a region that was supposed to become a thriving apparel-production hub for the United States after the Dominican Republic–Central AmericanFree Trade Agreement went into effect five years ago. Maybe its time has come.
The region boasts several advantages. It only takes two to three days to transport goods by boat to Miami, perfect for more just-in-time deliveries.
And the region has hundreds of apparel factories whose products can be sent back to the United States free of duty if they use U.S. or Central American yarns in their clothing. The duty-free deal was established under the freetrade agreement.
While everyone thought the free-trade pact would be the engine to fuel Central America's clothing factories, it hasn't. In 2006, 15.1 percent of all imported apparel into the United States came from Central America. That dropped to 12.5 percent in 2010. Meanwhile, China's portion of the imported-apparel pie went from 34 percent in 2006 to 40 percent in 2010.
"It's been a mixed bag," said Julie Hughes, president of the United States Association of Importers of Textiles and Apparel in Washington, D.C., who was attending the Apparel Sourcing Show, held March 22–24. The freetrade accord was launched right when apparel quotas were disappearing for Chinese-made goods. Everyone flocked to that super-cheap Asian country until last year, when Chinese apparel workers started drifting away to higherpaying jobs or decided to stay in their hometowns to work in burgeoning service-industry jobs. Only two of the six Central American countries in DR-CAFTA—Honduras and El Salvador—are among the top 10 apparel suppliers to the United States. "CAFTA is holding its own, but they still have a long ways to go," Hughes said.
Big guys
Now some big players are taking a second look at Central America. Adidas announced at a meeting recently that it was planning to increase its production in Central America by 700 percent this year, one industry source said.
And Denimatrix, the largest blue-jeans maker in Guatemala, has gotten an unusual six-month commitment from a customer to use the factory, which is now churning out 180,000 pairs of denim pants a week, said Denimatrix President Carlos Arias. Last year, the apparel factory— which makes jeans for Abercrombie & Fitch, Gap Inc., Urban Outfitters and American Eagle Outfitters—was sewing 150,000 pairs of pants a week.
One of the company's big advantages is that it is a completely vertical operation. Two years ago, the venture, formally called Koramsa, was purchased by the Plains Cotton Cooperative Association, a cooperative of Texas cotton growers whose American Cotton Growers also produces denim at its Texas plant.
Sixty percent of the denim that goes into Denimatrix jeans comes from Texas, with the other 40 percent coming from the United States or Mexico. That Texas supply is proving to be particularly advantageous this year as cotton prices have more than doubled and shoring up cotton supplies has been challenging. "We are hoping to be an island in the storm for our customers," Arias said.
Cotton is one of the things that attracted Los Angeles apparel manufacturer Mickey Sachdeva, chief executive of Roochi Traders, to take a new look at the region and attend the Apparel Sourcing Show. Normally, Sachdeva works with clothing factories in India, Bangladesh and China to make his T-shirts and fleece goods geared to a customer who wants reasonably priced items.
But Central America has taken on a new attractiveness for him because, he said, factories use a better grade of U.S. cotton to make their open-end products. The company was producing open-end T-shirts in Bangladesh, but the quality deteriorated over the years. "It's not making sense to do open-end products out of Southeast Asia. They are more attuned to ring-spun products," he said. "We said we are going to refocus ourselves and restrategize and bring in open-end products from Central America with U.S. cotton yarn."
Sachdeva predicts that Roochi could be sending as much as 20 percent to 30 percent of the company's production to Central America in the future.
Expansion plans
With more production coming to the region, more apparel and textile suppliers are expanding their forces in Central America.
Ron Russell, national sales manager for Groz-Beckert USA, a German company that sells sewing and knitting needles to the apparel and textile industry, said his business has tripled in Nicaragua in the last year.
Steve Perry, senior vice president for Darlington Fabrics in Rhode Island, said his company opened a manufacturing facility for warp-knit stretch fabric late last year in El Salvador. "El Salvador is becoming the synthetics hub of Central America," he said.
An uptick in Central American apparel production is a boon for U.S. yarn and fabric producers because apparel makers have to use regional yarns in their garments to qualify for duty-free status. Most of that yarn as well as fabric comes from the United States. In 2010, U.S. textile exports to the region were up 21 percent to nearly $2.5 billion. In return, Central American apparel exports to the United States last year were up 13 percent to $7 billion.
One of those boosting their exports to the United States is Nylontex in Guatemala. It makes seamless products such as leggings, leotards, pantyhose, bodyshapers and underwear. Karla Woc, the company's export manager, said about 40 percent of their exports have gone to the United States in recent years. That should increase to 50 percent this year.
To help Central America boost its apparel production as well as U.S. textile exports, the U.S. Department of Commerce, in coordination with several groups such as the Inter-American Development Bank and the National Council of Textile Organizations, is putting together an online database of certified factories in Central America and a list of products they produce.
"This will help with speed-to-market," said Gail Strickler, the assistant U.S. trade representative, who unveiled the idea at the Guatemala show.
The beta version should be up and running in time for the next MAGIC Marketplace in Las Vegas, scheduled for August. A fine-tuned version could be ready by November.
At the same time, the Commerce Department is helping to make the Americas, including Mexico and the Andean countries, the focus region at the upcoming Sourcing at MAGIC show in August.
"CAFTA is holding its own," said the USA-ITA's Hughes. "But they still have a long ways to go."