FIDM Prepares Fashion Business Students for Global Success!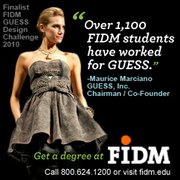 FIDM is an internationally recognized force in the Fashion, Graphics, Interior Design, and Entertainment Industries. Whether creating strong industry partnerships with companies who mentor students inside and outside the classroom or cultivating relationships with top brands, the goal of the college is to create incredible career opportunities for our students and graduates!
Hands-on experience is an integral part of FIDM's educational program. Our dedicated Career Center staff, with an unparalleled high ratio of staff to students, assists students in finding part–time positions in their respective majors while they are in college. FIDM students have had opportunities to work for Michael Kors, GUESS?, Bloomingdale's, Old Navy, Forever 21, Juicy Couture, Saks Fifth Avenue, and many more, all before they graduate!
Image to the right features: Guess Design Challenge Winner, FIDM student, Brittany Vu in a special collaboration between Guess? Inc. and FIDM. Advanced Fashion Design Graduating Students competed in the Guess Design Challenge, and the exclusive competition was judged by Maurice Marciano, a founder of Guess. FIDM's DEBUT Runway Show 2010 hosted the challenge.
The FIDM Career Center also offers FIDM Students on–campus recruitment and job fairs throughout the year part–time jobs can lead to career positions after graduation. Career Center events help promote FIDM talent, establish important connections with industry professionals, and ensure the success of FIDM Students and Alumni in their industry careers. Many of the industry's best-known retailers, from high-end designer labels and luxury brands to well-known department stores and specialty boutiques, show up for FIDM Job Fairs. Our graduates are happy to come back to campus and share their experiences, offer advice, and network with students from every major.
Upon graduation, FIDM Alumni become a part of global FIDM network that includes more than 40,000 graduates ranging from buyers for the hottest stores, to creators of award winning movie trailers, to Oscar®, Emmy®, and Project Runway winners. FIDM has over 25 Alumni chapters internationally! Grads have access to a database of over 19,000 employer contacts and more than 1,400 job postings each month. FIDM offers students and graduates ongoing career opportunities within the industries it serves. Our graduates have the most relevant, specialized, professional education and hands-on training within the Fashion, Interiors, Textiles, Graphic Design, and Entertainment Industries. Our alumni work for high-profile companies such as Guess?,Bebe, Levi Strauss Company, Bloomingdale's, E! Entertainment, Nordstrom, Macy's, Mattel, Benefit Cosmetics, Gymboree, Roxy/ Quiksilver, and BCBG Max Azria, just to name a few. FIDM Graduates have also had the opportunity to work on Hollywood's hottest blockbuster films such as Avatar and Alice in Wonderland.
If you are an employer interested in posting job positions for FIDM Students or Graduates, and becoming a part of our vast fashion network, please contact the Career Center (careercenter@fidm.com).
FIDM. The college of creative thinking.