A Current Affair: The Holiday Edition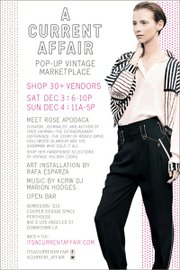 If you need a shopping fix this weekend, head over to the holiday edition of A Current Affair: Pop Up Vintage Marketplace. Held three times a year, the two-day pop-up has quickly become the premier stop for vintage shopping in Los Angeles. The event will take place Dec. 3 and 4 in the Penthouse of the Cooper Design Space.
Expect over 30 vintage retailers and private dealers with designer vintage apparel, jewelry and accessories. It's a treasure trove for the light-hearted shopper and the serious vintage connoisseur. Chanel, Alaia, Lanvin, Missoni and Yves Saint Laurent are just some of the choice finds customers have discovered in the past.
This edition, hosted by Rose Apodaca, will include vendors such as Martin Atelier, Scout, VOK, GlamAmor, Lux Revival, Sainte-Marie Vintage, NEW/FOUND and more. Stop by to shop and socialize at the opening cocktail party on Saturday, Dec. 3 from 6 to 10 pm. There will be an open cocktail bar, music by KCRW DJ Marion Hodges and an art installation by Rafa Espartza.
For more info and tickets go to itsacurrentaffair.com .