Made For A Good Cause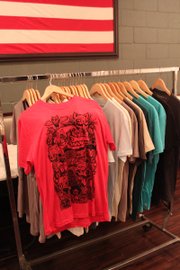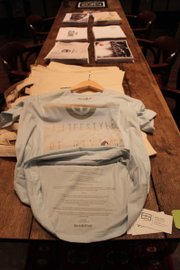 Illustrator Nick McPherson was one of eleven artists chosen to design t-shirts for this year's United Artists Network Spring collection.
Made for Good was on hand at West Hollywood's Palihouse hotel this week to showcase their Spring 2012 collections as part of L.A. Fashion Week. The location was fitting – if there's anything Hollywood loves, it's a good cause.
The San Diego-based organization partners with artists like Jack Johnson and nonprofits such as MusiCares, Jedidiah, Beautiful Feet, Rain Tees and United Artist Network to design t-shirts to help raise funds and awareness for each cause. Every year, a group of local and international artists is selected to design a t-shirt and the proceeds from the shirts go towards the charity.
This embedded generosity model allows shoppers to support a range of issues from deforestation to musicians affected by natural disasters, Krista Treide, Made for Good's co-founder and chief brand officer, said.
This season, United Artist Network collaborated with Americans for the Arts, an organization that works to keep the arts and liberal arts in the classroom and the community. United Artist Network curated a group of street artists to celebrate the mission of Americans for the Arts for this Spring's edgy designs.
Florida-based artist Horsebites designed two street-inspired motorbike shirts, while San Diego artist Nick McPherson brought his cartoon flair to the tees and English designer Drew Millward applied his unique illustrative style to the line.
Rain Tees, a new t-shirt collection set to debut soon, features artwork by children living in areas facing deforestation and environmental issues, and for each t-shirt sold, a tree is planted in an affected area.
In addition to featuring unique designs, all of the colorful graphic tees also tell the story of each nonprofit and its cause inside the shirt.
The different lines are carried at a variety of stores, including Kohl's, The Buckle and Nordstrom. They were designed to be priced from "the top of the pyramid all the way through," Treide said. Wholesale pricing ranges from $10 to $16.
Shirts are just the beginning – Made for Good has now partnered with Beautiful Feet, an organization that provides Cobian sandals to children who are at risk of contracting Mossy Foot disease from working in landfills in Nicaragua, Panama, Mexico, Ethiopia and Haiti. For each Beautiful Feet t-shirt or pair of sandals sold, funds will go towards shoes, medicine and prevention of Mossy Foot disease.