Big Birthday Bash for Jerry Leigh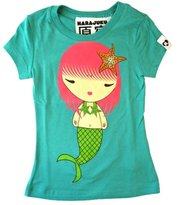 Harajuku Lovers T-shirt
It's not often you hear about an apparel company that has been around for 50 years under the same owners.
But Jerry Leigh Inc., founded in 1962, is getting ready to light the candles and celebrate its 50th anniversary. The Van Nuys, Calif., company has grown considerably since its days as a womenswear company founded by Jerry Leigh, who will be celebrating his 90th birthday soon. These days, the clothing company has all kinds of products for children, men and women in every kind of store you can imagine, from KMart and Forever 21 to Nordstrom.
The company has licenses with a host of companies such as Disney, Warner Bros., Mattel, Paul Frank Industries, Hello Kitty and Live Nation to make T-shirts and other garments with images of princesses, monkeys, bears and Japanese dolls. Last year, the company, whose president is Andrew Leigh, son of Jerry Leigh, acquired Fortune Fashions in Los Angeles to expand its brand holdings.
A few years ago, I visited one of Jerry Leigh's sourcing facilities in Guatemala where they were making T-shirts for the Hannah Montana label, which was going gangbusters at the time. The company has more than 1,000 associates and keeps on going strong.
A big shindig is planned for April 19.