Shop Trucks To Park Downtown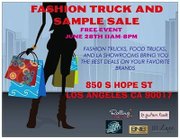 Now that the market has swelled to a whole traffic jam of shopping trucks, they have collectively organized into tidy parking lot parties like their food truck siblings. The next event featuring Shop Truck LA, Le Fashion Truck, BNIB, Rolling Threads, Boutique Iundique and JD Luxe will be right in the heart of the fashion district downtown tomorrow, June 28 from 12pm-7pm.
In addition to the shopping trunks, showrooms participating include: Sabrina Showroom, Fraiche by J, Daftbird, Alissa Gross, Cadeaux Sportswear, Unique Inspirations Jewelry and Second and Sunday Tees. Of course, there will be food trucks. Pigs Feet Under specializing in tasty pork street food will be grilling and Fluff Ice will be serving sweets.