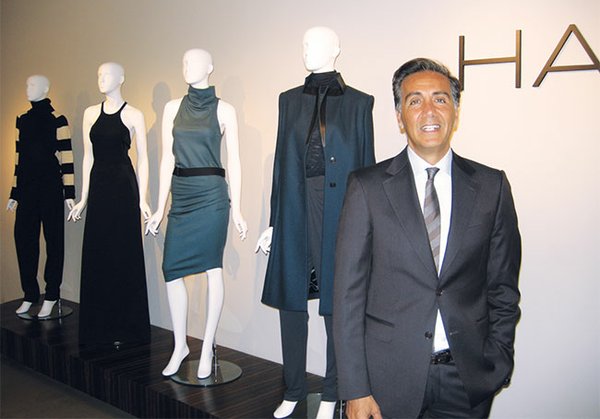 DTLA
Halston Carves Out Designer Niche in Los Angeles
From his corporate aerie, Ben Malka, the newest chairman and chief executive of Halston, has a sweeping vista of skyscrapers clustered around the heart of downtown Los Angeles.
The sun reflects off metal and glass high-rises, almost burning the eyes. Outside his sleek mid-century-style office, a constant parade of employees walks up and down the hallways. A designer carrying a roll of bright fabric exits the conference room, stocked with so many racks of clothing it looks more like a showroom than a meeting spot. The lobby, bathed in soft light, is lined with chic mannequins wearing the Halston Heritage collection. A black-and-white documentary about Halston, the late designer who founded the brand, runs on an endless loop in the reception area.
Halston's newest corporate headquarters are not in the Big Apple, where Halston launched and ran his company. Since last summer the company has been located in the middle of the City of Angels after Malka, president for 10 years at BCBG Max Azria Group in Vernon, Calif., invested a reported $20 million in the fading label. That makes him the largest shareholder and the man in the driver's seat.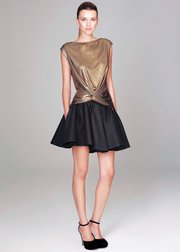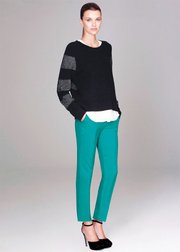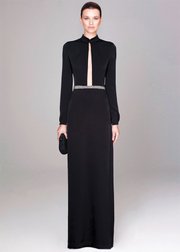 Many were astonished to see the designer label pick up and move west even though some of its previous principal designers—including Randolph Duke, Kevan Halland Bradley Bayou—are all Los Angeles residents. After all, Halston is synonymous with Studio 54 and everything considered cosmopolitan and New York chic. "I always thought of it as being an East Coast brand," said Shelda Hartwell-Hale, vice president of Los Angeles buying office Directives West, the West Coast arm of The Doneger Group buying office in New York. "I think the West Coast's chic and hip, cool factors have always been different from the East Coast, and some of that shows through in the [new] Halston pieces. But Ben hasn't forgotten about that shopper who is the Upper East Side woman in New York."
Ben Malka agrees to that. He explains he moved the company to Los Angeles because he considers it a global city with world recognition when it comes to fashion innovation and contemporary womenswear. "I think Los Angeles is recognized as being one of the leaders today in contemporary fast-fashion, which began here in the mid-1990s," said Malka, sitting in his 11th-floor office at the Los Angeles Center Studios complex, located on a campus of film sound studios and office buildings just west of the 110 Freeway. The Speedo headquarters are located one floor above. "It began with BCBG Max Azria, Laundry by Shelli Segal, A.B.S. by Allen Schwartz, and then there was contemporary denim."
Los Angeles certainly is gaining in fashion stature. In recent months, there have been sightings in town of former Dior designer John Galliano. Speculation is that Galliano, fired from his post last year after being convicted of making anti-Semitic remarks at a Paris bar, is house hunting in the area with partner Alexis Roche, who wants to pursue a career as a celebrity stylist.
There is also news that Saint Laurent Paris' new head designer, Hedi Slimane, is thinking of relocating the whole fashion house to Los Angeles after he bought a Beverly Hills mansion in 2009 for $4.1 million. "L.A. is the spot," said Los Angeles designer Kevan Hall, who designed for Halston from 1997 to 2000.
The Los Angeles vibe Halston has always been known for its couture line, which is on hold right now until the economy improves. When it is taken off ice, it will most likely be launched out of New York.
Instead, Malka is concentrating on getting the less expensive Halston Heritage contemporary line, created in 2009, off the ground. The first Halston Heritage collection under Malka's guidance debuted with the Fall 2012 season in such high-end stores as Nordstrom, Saks Fifth Avenue,Bloomingdale's, Neiman Marcus, Harrods, Holt Renfrew and Lane Crawford. Retail prices for the clothing line, which targets the 30- to 40-year-old woman, range from $125 to $895 with special pieces such as gowns fetching $5,000. Handbags go for $300 to $895 and are under the purview of Malka's wife, Anita Jansens-Malka, who is executive vice president of Halston and senior vice president of the accessories division.
The revamped contemporary line's design direction is being shaped by Chief Creative Officer Marie Mazelis, who worked with Malka at BCBG Max Azria as the company's creative director for the Hervé Leger andMax Azria labels. She has brought in two Italian and two British designers to head the areas of sweaters, dresses, sportswear and handbags and to give the line a luxe look.
So far, Halston Heritage is getting good reviews. "The new collection under Ben Malka has been very well-received by customers," wrote Ken Downing, Neiman Marcus' fashion director, in an email. "The Neiman Marcus customer loves the seductive attitude of the collection. … Many pieces go day to evening, casual to dressed-up effortlessly, which speaks to how a modern woman dresses today."
Roseanne Morrison, the fashion director at The Doneger Group, said the new line is "contemporary but ladylike. I want to put it on par with Diane von Furstenberg's clothes that appeal to a woman who works and also goes out in the evening."
The contemporary collection is all about simplicity and effortlessness, Malka said. The lines are clean and sophisticated with a few frilly details such as ruched and ruffled dresses. The fabric flows.
"I think what we did was to modernize the brand and evolve it," Malka said.
He stands and reaches toward a bookshelf, pulling out a bound album that has become a succinct history lesson of the brand's fashion past. Malka said he had the book created to share the Halston legacy with his staff of 137 (120 in Los Angeles and 17 in New York) so they could understand what he calls "the DNA" of the label.
"A lot of the designers in the past were going back to the archives and staying there," he noted. "Halston believed in evolution."
Not only are Halston's corporate headquarters in Los Angeles, but so is a 1,000-piece archive of clothing created by the famous designer.
Round and round The Halston brand has seen quite an evolution since the Iowa-born designer, Roy Halston Frowick, moved to New York in 1957 and became a household name. He made his first big splash by designing the pillbox hat worn by Jacqueline Kennedy Onassis to her husband's presidential inauguration in 1961. Halston went on to create slinky pantsuits, machine-washable ultrasuede dresses, and sportswear that eschewed structure and heavy details and incorporated simple looks. His fashions were donned by a bevy of celebrities, including Liza Minnelli, Elizabeth Taylor, Bianca Jagger and Lauren Hutton. In 1990, Halston died in San Francisco at the age of 57 from complications of AIDS.
His brand was then bought and sold many times. A few years ago, one of the more unusual partnerships was between movie producer Harvey Weinstein; "Sex and the City" star Sarah Jessica Parker, who was president of Halston for a short time; and celebrity stylist Rachel Zoe. That troika imploded.
To buy Halston, Weinstein had partnered up in 2007 with Hilco Consumer Capital, a division of Hilco Trading in Northbrook, Ill., which invested $25 million in the company. Weinstein left the company in 2011 after Hilco ponied up $7.5 million to buy out the movie producer and the "Sex and the City" star. Hilco remains a partner with Malka andIngenuity Capital.
Malka said he hadn't been expecting to take on a new venture such as Halston. But last spring, he was approached by a banking executive who asked him to help find an investor for Halston. Malka said he was on the verge of retiring from BCBG Max Azria, but within a week his retirement plans were scuttled. He now plans to grow the company quickly. He declined to be specific about his future plans but said he is negotiating some targeted licensing agreements and positioning the label to be popular overseas. "We will have substantial growth in the next 24 months," he explained. "We've got a lot of buns in the oven."