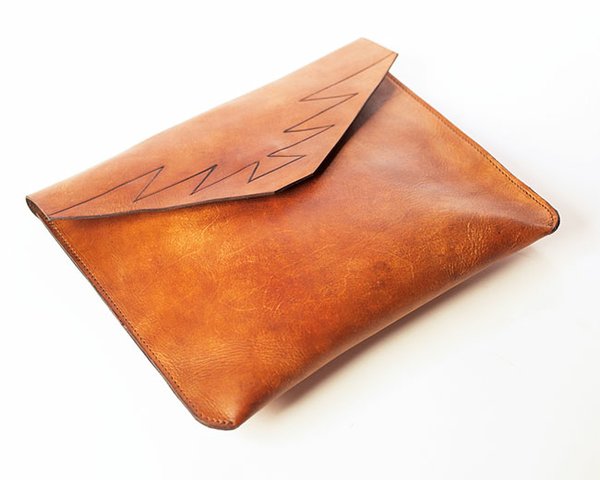 Make Smith Leather Co.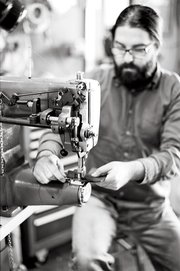 California leather craftsman and designer Steven Soria didn't have to look very far when it came to finding inspiration for crafting leather accessories as founder and owner of Make Smith Leather Co. The Santa Barbara, Calif., native learned the fine art of working in leather from his father and grandfather, both saddle makers who passed the tradition on to him. Since 2011, Make Smith Leather Co. has produced a collection of leather belts, wallets, iPad cases, jewelry and home décor handmade by Soria in Santa Barbara.
With a "less is more" aesthetic, the leather accessories are designed using top grain leather sourced from Hermann Oak, a 132-year-old tannery in St. Louis, and traditional stitching with minimal embellishments. Soria even inherited tools from his father and grandfather that he employs to create designs that are earthy—the only colors are tan, brown and black—yet sturdy. "There's a more rustic feel. It's a little more bulky. We try to embrace that more," said Soria, who also has a fine arts degree in sculpture from California State University, Long Beach.
Manufacturing locally is important to Soria. "We can turn things around in three weeks [compared with working overseas]," he said. Make Smith also has a robust custom-made service. A recent commission was for a farmer's-market tote bag made with a substantial canvas and a super-thick, wide leather bottom. The leather bottom provided the much-needed support for purchases.
The goal for the small company—he employs only four others plus his father, who works as technical adviser—is to continue refining his classic collection, venturing in the more luxury market. The company recently collaborated with Adesso in Santa Barbara to create leather cuffs and with the Santa Barbara silkscreen companyPrintLiberation with limited-edition wallets.
Make Smith Leather Co. can be found at Otherwild in Los Angeles,Adesso Shop in Santa Barbara and Afterlife Boutique in San Francisco as well as online at www.makesmith.com. Wholesale prices points start at $25. For more information, call (805) 699-6296.