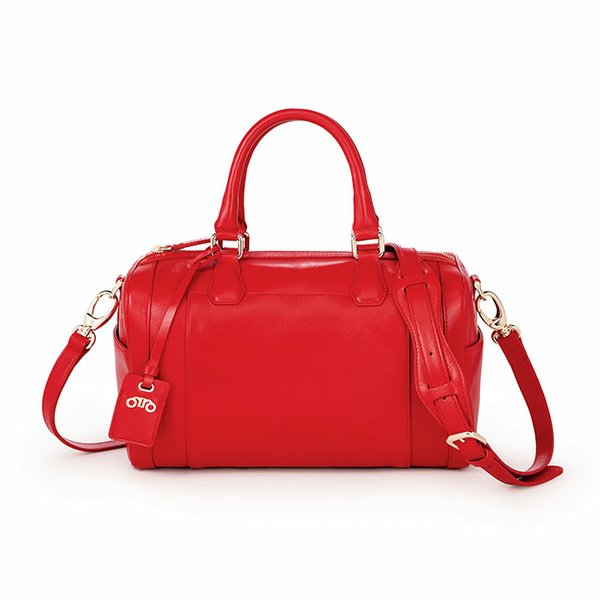 NEW RESOURCES
New Resources: RoviMoss
As head of an international distribution business for contemporary handbags, California native Betty Hsu knew firsthand what makes a leather handbag great. The perfect bag has to be versatile yet stylish, made with the best materials, and, above all else, must be available at a contemporary price point without losing its high-end design.
On a quest to create such a bag, Hsu teamed up with accessories designer Cathy Lee (recently named creative director of accessories for LG Fashion) to launch RoviMoss. Underscoring the phrase "classics reborn," the company is carving out a space in the mid–price point category with a strong collection of satchels, shoulder bags, totes and clutches in vibrant, saturated colors and luxurious Italian leather. Appealing both to the younger market as well as the "lean in" fashionable executives, RoviMoss is bridging the gap where luxury meets accessibility in handbags.
Headquartered in Pasadena, Calif., the company launched a robust collection with a full three deliveries and silhouettes in all sizes. Highlights include the "Go1" collection, which features a shoulder bag with detachable shoulder straps, blend of 14- to 18-karat-gold-plate hardware, and detachable colored luggage tags meant for the woman on the go. Edges are also hand painted seven times with minimal seaming and lining made of milled cotton. The debut collection also includes the youthful "City Lights Girlfriend Shoulder" with neon color-block details; the "GoX5" fold-over envelope clutch, which converts into a shoulder or cross-body shoulder bag; and the "First Class Go1" structured satchel in BBG smooth leather.
"The goal is to bring our customer a meticulously constructed bag—made of the finest leather with a timeless silhouette—that doesn't break the bank," Hsu said.
Designer and co-founder Lee is an industry veteran. A Rhode Island School of Design graduate, Lee's résumé includes stints at Liz Clairborne, Gap and JC de Castelbajac. Besides RoviMoss, Lee is also head of a design firm that lends behind-the-scenes expertise to high-profile international brands. For RoviMoss, her designs are refined with bold touches that can be found in the rich colors.
For RoviMoss' Fall 2013 collection, Hsu said, stores are responding well to the custom-blended red as well as the classic nude vachetta and black leather styles. Wholesale prices range from $65 to $245. RoviMoss handbags can be found at eLuxe.com, Gus Mayer and Michael Hayesas well as online at www.rovimoss.com.