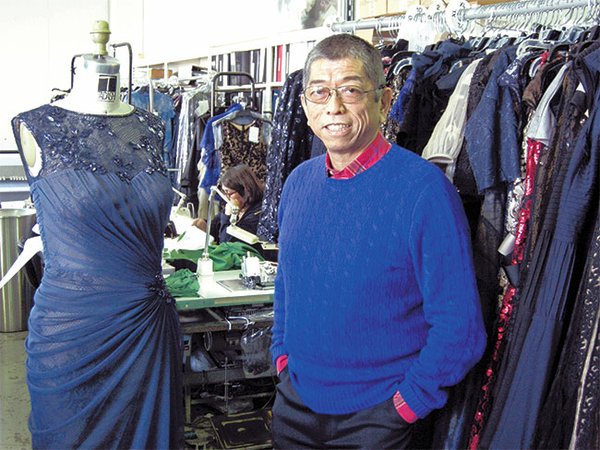 DESIGNER PROFILE
Tadashi Shoji Charts the World of Fashion to Stay Successful
At the end of his recent runway show at New York Fashion Week, when the last model had sashayed down the catwalk, Tadashi Shoji's first thoughts were, "What will I be doing for the next season?"
The event was barely over, but the Los Angeles–area designer was thinking of how to approach his Spring/Summer 2014 collection.
Trying to be one step ahead is how the creator of elegant evening gowns and cocktail dresses—carried at high-end stores such as Neiman Marcus, Saks Fifth Avenue and Bloomingdale's—has been able to survive more than 30 years in the industry.
When the economy started to wobble six years ago, Shoji closed his Los Angeles and Dallas showrooms and concentrated on his New York showroom, where major retail buyers and international stores shopped. "I sensed something was coming," Shoji said inside his warehouse-like offices in Vernon, Calif., where a staff of 50 people does everything from design and make patterns to create samples and sew small orders of dresses. About 80 percent of Shoji's production is done in Asia and 20 percent in Los Angeles.
Instead of concentrating on the domestic market, he instructed his staff to push international sales because domestic buyers were placing small $2,000–$3,000 orders while international stores and high-end department stores were leaving paper totaling $20,000 to $30,000. "I told our sales force, 'This is simple math,'" he recalled.
This was also when he decided to participate in Mercedes-Benz FashionWeek as one of a handful of Los Angeles designers who show their collection on the New York runway. (Coverage of the West Coast designers showing in New York can be found on pages 18 and 19.)
And last year, he became a member of theCouncil of Fashion Designers ofAmerica, the organization whose ranks include Los Angeles designers Bradley Bayou, Randolph Duke, Monique Lhuillier, Max Azria and Lubov Azria as well as New York heavy hitters such as Diane von Furstenberg and Marc Jacobs.
For some time, he has had his own stores at South Coast Plaza in Costa Mesa, Calif., and at The Forum Shops at Caesars in Las Vegas. But within the last six months, he has opened two stores in China—one in Shanghai and another in Beijing at a new high-end, eco-friendly shopping center called Park View Green. He is thinking about opening more stores in large Chinese cities such as Chengdu and Dalian.
But the Middle East is his biggest international market, where he sells in stores such as Harvey Nichols Dubai.
Today, 60 percent of Shoji's revenues come from international accounts and the rest from domestic stores. Revenues in 2012 totaled $37 million. That is a vast jump from 2007, when international sales were 8 percent of his business.
"I think he does a great job of understanding his customer, even on an international scale," said Roseanne Morrison, fashion director for TheDoneger Group in New York.
Ken Downing, who was in the audience for Shoji's Fall/Winter 2013 collection in New York, has consistently been a fan. "Tadashi understands that a woman wants to dream and that every event in her life should be her personal red-carpet moment," he said.
The muse: every woman
Shoji, who moved from his native Japan to Los Angeles when he was in his twenties, has always had a practical air about him when it comes to business.
While most elegantly designed evening gowns have price tags starting at $1,000, Shoji's well-constructed lace and silk dresses sell for $300 to $1,200.
"We give value," he said, attired in bright-red athletic shoes that matched his red-and-blue plaid shirt, which went with his bright-blue sweater. (Bright sweaters and shirts are his trademark.) "Making a good dress is all about designing and pricing. You can design very expensive clothes so easily using really expensive fabrics. But higher prices are selling less and less."
His muse, he said, is the everyday woman. But a few years ago, his dresses started lighting up the celebrity fashion trail. His first Oscar-placement dress was worn by Mo'Nique, who won the Academy Award for best supporting actress in 2010 for her role in the film "Precious."
Last year, his movie-star model was Octavia Spencer, who wore his dresses to several awards ceremonies. She stood tall and beautiful in a white, beaded and ruched gown when she took the best supporting actress award for her part in "The Help." Shoji's staff was beading her dress, one bead at a time, right before she left her room at the Four Seasons in Los Angeles to attend the Academy Awards.
She also was seen in a lavender ruched piece at The Golden Globesawards last year.
Tadashi has been dressing stars for some time, but it seems Spencer's in-the-spotlight moments helped propel Shoji into a brighter designer light.
"She is a very nice person," Shoji said of the zaftig Spencer, who proved that the right dress complements the figure. Spencer, with the help of her stylists, sisters Wendi and Nicole Ferreira, has continued to wear Shoji's gowns to events such as the inaugural ball in Washington, D.C., earlier this year.
Tadashi Shoji started his label 31 years ago, not long after he graduated from Los Angeles Trade-Technical College, a two-year community-college program whose other well-known fashion designer graduates include Carole Little, Sue Wong and costume designer Bill Whitten.
Shoji, who had studied to be an artist in Japan, was introduced to the school by a friend. He said he knew nothing about sewing, but his sister back in Japan was a fashion designer.
As a student, he worked off and on for Bill Whitten. Eventually, he got a job with Mr. Blackwell (Richard Selzer), the Los Angeles designer later known for his yearly "Ten Worst-Dressed Women" list.
Shoji's three years at Mr. Blackwell's studio taught him the ins and outs of the industry. "I was designing, doing pattern production and going to the manufacturer to do quality control," he recalled.
In 1982, Shoji decided to start his own label, with his first offices in downtown Los Angeles. Now his large space in Vernon doubles as a distribution center.
His staff of patternmakers and seamstresses has been with him for years. His head sewer, Esperanza Sanchez, has worked with him for 25 years. "I feel like this is my house," she said.
And head patternmaker Rocio Ramos has worked with Shoji for 13 years. His design assistant, John Bonifacio, arrived several years ago as an intern from LA Trade-Tech.
And new on board is David Nguyen, who was hired six months ago fromValentino in New York. His job as managing director is to look into licensing deals and boost the label's new e-commerce site, which, during its nine months of existence last year, generated $1.2 million in sales.
Already, Nguyen is developing a perfume-licensing deal and has plans for deals for handbags and shoes.
When he looks five years ahead, Shoji sees himself with a bigger international market. He believes Southeast Asia is a sleeping giant of consumerism as well as areas such as Uzbekistan, Turkmenistan, Kazakhstan and Russia. "There are so many countries rich with oil that will be big markets," he said.