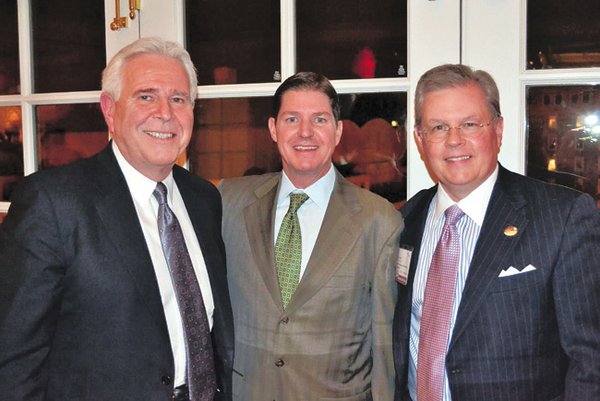 NEWS BRIEF
Williamson-Dickie CEO to Chair AAFA Board
Philip C. Williamson, chairman, president and chief executive officer of Williamson-Dickie Manufacturing Co., was named chairman of the board of the American Apparel & Footwear Association at the Arlington, Va.–based trade association's annual Executive Summit in Washington, D.C. (see related story, this page).
Williamson takes the reins from outgoing AAFA Chairman Rick Darling, vice chairman of LF USA and LF Europe. The news was announced at a March 14 gala dinner and reception at the Hay-Adams hotel in Washington, D.C.
"For the past two years, Rick has been a vocal advocate for our industry at home and abroad," said AAFA president and CEO Kevin M. Burke in a statement. "Under Rick's leadership, AAFA bolstered its visibility in Washington and along the global supply chain with expanded international, educational and membership programs; the development of our 'We Wear' brand identity; and the launch of our improved, integrated website."
Burke praised Williamson's industry experience, particularly regarding domestic manufacturing. "Philip brings vast experience and steadfast leadership at a time of great change in the U.S. apparel and footwear industry," he said. "I look forward to working with him as we seek new opportunities for our industry's 4 million U.S. workers."
Williamson-Dickie is a privately held, family-owned company that manufactures workwear under the Dickies, Workrite and Kodiak brands. "As a fourth-generation business leader in the U.S. apparel and footwear industry, I have seen first-hand how this industry positively responds to great challenges," Williamson said. "I look forward to serving as chairman as we work to amplify AAFA's voice in Washington in pursuit of our ambitious legislative agenda for 2013."
The other incoming AAFA board members include Rick Helfenbein, president of Tellas Ltd. and Luen Thai USA, as vice chairman; Rob DeMartini, president and CEO of New Balance Athletic Shoe Inc., as treasurer; and Paula Zusi, executive vice president and chief supply-chain officer of Ann Inc., as secretary.