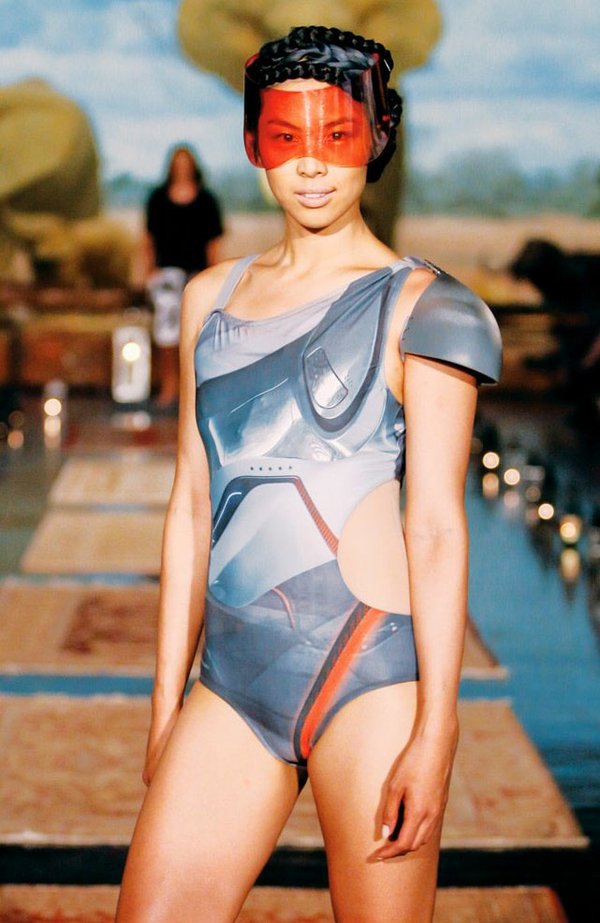 FASHION
Fashion First for Woodbury
Photo Gallery
Woodbury Fundrasing Gala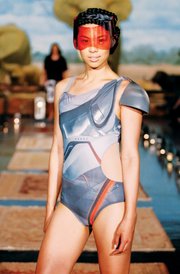 Photos by DDR F&M Productions and Jonathan Roberts Photography.
This year, fashion design students at Woodbury University had two opportunities in the spotlight when the design school hosted a pair of runway events.
On April 27, the school hosted its annual fundraising fashion gala at the Natural History Museum in Los Angeles. For the first time, Woodbury invited the public to a second runway event on May 2, at LA Center Studios in downtown Los Angeles.
Titled "Neo-Tribes," the show featured the work of Woodbury's fashion-design and costume-design students who presented a "Bram Stoker's Dracula" themed segment.
Kathryn Hagen, chair of the Department of Fashion Design, kicked off the evening at LA Center Studios by welcoming guests and this year's fashion honoree, Lisa Kline.
Students presented their designs, which included clothes, shoes and accessories, inspired by the "Neo-Tribe" theme.
Sophomores, who were mentored by fashion designer Eduardo Lucero, were given the challenge of creating swimwear inspired by car culture. Designs ranged from a colorful Nascar-graphic printed suit to a sleek "Little Red Corvette" one-piece.
Juniors showcased designs inspired by high school "Neo-Tribes." There were ballet-inspired looks as well as über '80s styles.
Senior design students, mentored by fashion designer and show producer Jared Gold, were challenged to create original collections for the "Neo-tribe" theme that represented their personal style and background.
Inspiration ranged from candy-coated French "Lolitas" to Georgia O'Keeffe meets the ski slopes, preppy uniforms a la Caribbean and Alice in Wonderland -inspired tea parties.
The costume design segment, which was presented in a dark fairy tale story setting complete with dancers and movie imagery, was impressive for balancing period accuracy with creativity.
Under the mentorship of costume designers May Routh, Maxwell Barr, Eddie Bledsoe and Diane Sisko, student designs were nothing short of spectacular.
Costumes included Dracula armor circa 1462 as well as garden party and eveningwear dresses set in 1887. An elaborate Dracula costume and stunning Transylvania finale wedding gown closed the segment.
Hagen presented design awards to students following the runway show. Winners included Brittany Wise for "Top Women's Swimwear," Lu Lui for "Top Men's Swimwear" and Grecia Rodriguez for Best Junior Collection.
For graduating seniors, several awards were presented. Jizell Keseian received the "Concept Award," Andrew Kessler received the "Vanguard Award," Natalie Yaru was presented the "Rising Star Award" and a special "Rising Star in Costume and Fashion Award" was given to Cierra Treloar.
LA Fashion Magazine's Dana Johnson, a Woodbury University alum, also presented design awards to students. Amie Schow was named as the "Student Designer to Watch" and Natalie Yaru was awarded the "Student Designer of the Year Award." - N. Jayne Seward