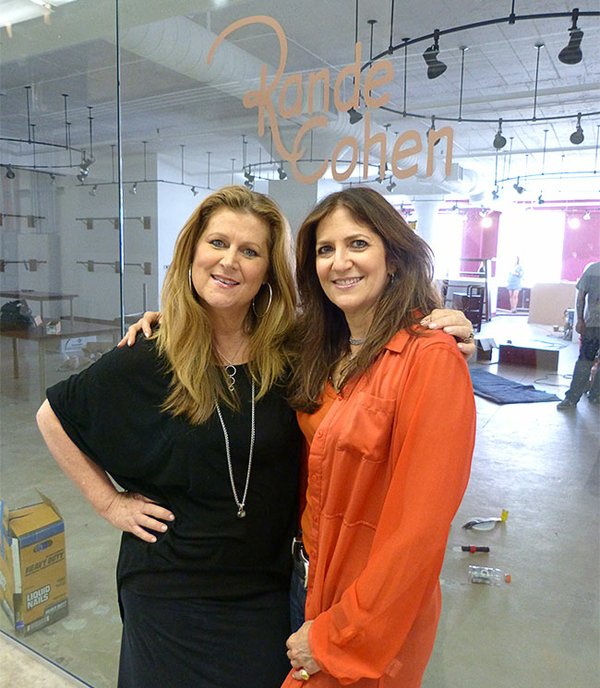 SHOWROOM PROFILES
Rande Cohen Showroom
The New Mart
Suite 1103
(213) 489-3044
Longtime California Market Center showroom owner Rande Blatt Cohen is moving to a new 2,400-square-foot space at The New Mart, where workers were putting the final touches on the new showroom in time for the June 10–13 Los Angeles Fashion Market.
Cohen grew up in the apparel business. Her father, Julie Blatt, ran his Julie Miller of California dress business first out of The New Mart (then called the 127 Building), then in space that encompassed the entire sixth floor of The Cooper Design Space (then called The Cooper Building).
"As far as going to work was concerned, to me it was going to The Mart," she said, referring to the CaliforniaMart, now known as the CMC.
Cohen worked with her father in manufacturing and tried retailing before settling on her wholesale, opening her first showroom on the CMC's fifth floor 14 years ago. She soon grew out of the 350-square-foot space, then grew out of her larger, 700-square-foot space. For the last eight years, she's been in her corner showroom on the building's fifth floor.
"It's nice to shake things up and have a little change," Cohen said.
Plus, she said, she found her buyers were allocating more time to spend at The New Mart.
"I want to make sure I am available to be seen by my buyers," she said. "Customer service is really key. It promotes loyalty, trust and longevity."
The other brands at The New Mart are a better fit with her collections, which include sleepwear and lounge lifestyle line PJ Salvage and its higher-end sister brand, PJ Luxe; Peace Love World, a fun, contemporary line with a positive message; My Tribe, a contemporary sportswear line with luxury leathers; Oats Cashmere, a cashmere knits line for men and women; Crown Jewel, a T-shirt line in a wide range of colors and bodies; Lori Jack crystal-embellished flip-flops; Old Gringo handcrafted cowboy boots and accessories; Joed Belts, a Los Angeles line featuring great craftsmanship and studded and crystal details; lingerie line Mad Mac from Texas; and Fickle, a Los Angeles–based collection of fashion tops, shirts and dresses.
The broad mix of collections means the showroom offers pieces at diverse price points for the casual contemporary market. Cohen primarily works with contemporary, boutiques, resort retailers, catalogs and e-tailers.
Cohen is settling into her new space with her team, including longtime associate Julie Mandell.
"I couldn't do this without the support and professionalism and loyalty and capability she brings to the table," Cohen said. Rounding out the team are Brenna Moore, Toni Kirk, Ashley McIlroy and Yvette Flores.
RELATED STORIES