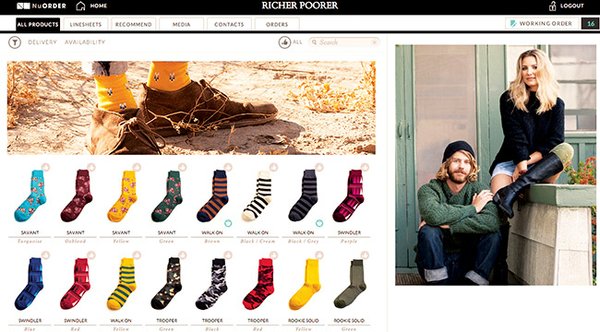 TECHNOLOGY
Business-to-Business Technology Solutions for Fashion Are Gaining Traction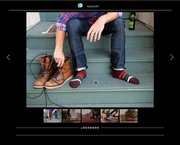 Walk down the trade-show aisles 10 years ago, and most likely every desk had a stack of paper order forms. Today, it's more common to see customers tapping an iPad to take notes and place orders through an application such as NuOrder. The splashy company's online wholesale ordering platform is as intuitive as online shopping, yet it's built with special features that retail buyers require. Drag-and-drop reordering of chosen items for merchandising and browsing lookbooks, videos and press clips are easy to navigate.
Heath Wells, co-founder of NuOrder, said many brands that use NuOrder to communicate with buyers notice increased sales. "The salesperson has more time to service clients" instead of being inundated with data entry, Wells said.
A few competitive companies that offer a service that's similar to NuOrder—albeit each with its own specialized features—are Joor and Brandboom. The glossy and beautiful page design of these sites is a novel approach to business-to-business (B2B) sales, but the systems behind the shiny exterior is not an undiscovered concept in the wholesale industry.
"It's like the fashion industry woke up to this," said Michael Penchansky, founder and chief executive officer of technology company Monkey n' Middle, which offers a B2B system that is used by companies such as Echo Design, The Jones Group and Kenneth Cole. Penchansky was a veteran in the wholesale footwear business before he segued into technology.
"We aren't about eliminating pen and paper," said Penchansky, referring to handwritten paper orders. "What we are about is automation of the process." That means when a customer logs into the manufacturer's wholesale e-commerce website, it appears just like a retail e-commerce site except with wholesale-ordering capability. Penchansky said many of the front-end ordering companies are fantastic for the sales force, but not all of them integrate the buyer's order with all the manufacturer's internal systems—such as its enterprise resource planning (ERP), product lifecycle management (PLM), electronic data interchange (EDI) and third-party logistics (3PL)—neatly. Monkey n' Middle said it can do all of the above.
"I love that there are companies like NuOrder and Joor because it just strengthens the importance of B2B in the fashion industry. It all depends on what the company is looking for," said Penchansky, who said he has referred potential clients to both of those platforms. Penchansky added that Monkey n' Middle targets clients that operate in the $100 million-and-up range.
FDM4 is experienced in providing ERP, warehouse management system (WMS) and customer resource management (CRM) solutions for activewear brands and has offered a B2B e-commerce division for about 14 years. FDM4's strength is that its e-commerce portal connects to all of FDM4's back-end operations, eliminating double entry of information and ensuring integration throughout the whole pipeline from viewing live inventory in different warehouses to shipping products from multiple warehouse locations to multiple retail locations.
"The e-commerce application reads the data directly from the ERP system," said Mike Cutsey, president of FDM4. "If you launch a catalog on the ERP, you turn on a color or a style, there's no uploading, no downloading [to the e-commerce site]. When you change the ERP pricing, the e-commerce pricing automatically happens."
Finding the right fit
For brands that are not yet functioning at the capacity to require all of the features that the huge, complicated systems provide, there are several software solutions that cater to small to mid-size businesses.
Some brands purchase different system services a la carte. Iva Pawling, co-founder of Capistrano Beach, Calif.–based boutique sock line Richer Poorer, employs two systems to satisfy her company's B2B needs: NuOrder—for taking notes, placing orders at trade shows and sending follow-up linesheets—and Hubsoft as a "light ERP" system.
Pawling said that Hubsoft is indispensible for its ability to streamline all of the back-end functions to manage and fulfill orders. That includes running multiple warehouses simultaneously, bundling products together to create pre-packs, customize wholesaler's profiles, customize the workflow with its warehouse, customize all reporting and easily integrating into the accounting system.
Hubsoft also offers a dealer interface system in which buyers can place orders, but Pawling said one of the reasons she signed up for NuOrder is because many buyers were already familiar with the system. She sympathized with the fact that it's confusing for buyers to learn multiple new systems when each vendor uses a different platform.
Still, she said that only a small percentage of buyers are submitting their orders through NuOrder outside of trade-show walls. In some cases, buyers use NuOrder to compile an order and then still submit the actual order via fax or email to the sales rep instead of through the platform.
"People just get really comfortable in the way that they do things, and to ask them to do any other system or to change their behavior is the hardest thing to do," Pawling said.
Lee Decker said that he started Hubsoft to function as the missing technological link for brands on the sales side of the house.
"With the ERP systems, they have only technologically enabled half of their organization. The salespeople are still struggling with reports," Decker said.
Hubsoft's client base includes many brands in the actionsports market such as Stance, Olukai and O'Neill that manage orders from multiple regional sales reps, team riders, B2C e-commerce sites and employees. In addition to its extensive sales reports and order-status visibility on the Hubsoft platform, reps can reference in-depth technical features of each product through extensive online training clinics.
Decker said that many brands falter because they cannot service their buyers operationally once the order is in hand and advises growing small businesses to get the back of their house in technological order early.
"If it's easier for people to submit orders to you [as a brand], that's very valuable to your customers. To have that portal in place saves you a lot of time operationally. It's that much easier for buyers to trust their open-to-buy dollars with you," Decker said. "Order capture is one process."