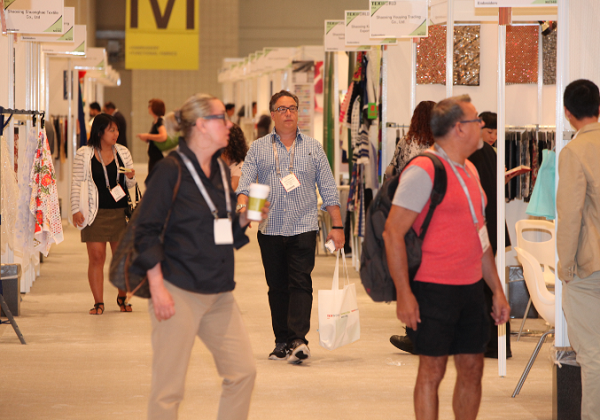 TEXWORLD USA
Sourcing the Supply Chain From Fiber to Fabric to Finished Garment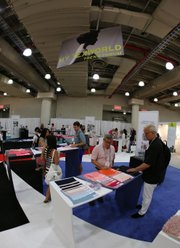 NEW YORK—During the July 22–24 run of Texworld USA at the Jacob K. Javits Convention Center, David Sasso, vice president of sales for Buhler Quality Yarns Corp., based in Jefferson, Ga., spent some time at the show explaining to buyers that they could, in fact, afford his pima yarns—even at higher prices than other competing products using lesser cotton fibers.
"When I explained that $3/garment was possible—and add that to duty-free—it's a pretty good deal," he said.
His argument proved persuasive, as the buyer "came back and brought the whole crew."
"Several brands had a pre-conceived notion that our yarns are too expensive," he said. But by examining every single link within the supply chain—by substituting a lighter-weight fabric or simpler stitching, for example—Sasso is able to change some buyers' minds.
The larger challenge, he said, is buyers' lack of knowledge of supply-chain economics. "Most brands only go to the fabric stage, not to the yarn itself, so they're not making the best decisions, just the cheapest ones. You need to weigh cost, value and quality, and you have to know the whole supply chain."
Visitors to Texworld USA could see several components of the apparel-industry supply chain from fiber makers such as Lenzing to yarn suppliers such as Buhler to apparel mills, converters and representatives. The show was held alongside the International Apparel Sourcing Show and the Home Textiles Sourcing Expo and ran concurrently with other apparel trade shows Kingpins and Première Vision New York.
"An increase of 20 percent in exhibit space is proof that our event remains a vital sourcing event for the apparel industry," said Kristy Meade, group show director for Messe Frankfurt Inc., organizer of Texworld USA.
The sold-out show had more than 180 exhibitors, including pavilions from Colombia and Mauritius and—for the first time—Guatemala. Ten U.S. mills also participated, which buyers like using for their "quick response and duty benefits," said Tricia Carey, senior marketing manager for Lenzing.
Business is brisk for North Carolina–based Tuscarora Yarns, said Andy Long, vice president of sales and marketing, adding that the yarn spinner supplies all the yarn for American Apparel. The mill is so busy they are only able to satisfy the demands of their Tier I clients, with others now waiting months instead of weeks, Long said.
Most popular right now is anything marled, nubby or textured, he said. "Texture, in general, is what everyone is looking for. What you think is too much [design] is not!"
Urban gray fleece is "doing well" as are tri-blends with "a lot going on with color and texture. People want the ability to cross-dye and get multiple colors. Everyone is looking for something to catch the eye, whether it's contrasting color or physical texture."
"There's a resurgence of demand for American made," he added. "Our business is exceptional right now; Q4 2013 was our first slowdown in five years. We're almost overwhelmed. We're one of the few with huge blending capacity."
At Los Angeles–based SG Knits, customers are moving away from tri-blends and looking for anything with foil, texture, embroidery or appliqué, said Lauren Greenberg, who co-owns the company with her husband, Steve Greenberg. "There's a little bit of a move toward sustainable fabrics, like organic cotton and Tencel," she said. Those seeking "a fresher look" gravitated toward pieces such as their distressed burnout stripe, a mix of 70 percent polyester and 30 percent cotton.
SG Knits produces its fabrics in California and operates a cut-and-sew facility in the Dominican Republic.
"People want multiple embellishments. They choose a base fabric they can embellish more," Steve Greenberg said.
International market
At Charles Parsons Ltd., a 99-year-old Auckland, New Zealand–based converter, business at the show was not as good as the company had hoped, said Heather Maldonado, co-owner of Studio Bert Forma, the Los Angeles company that represents the line. Fabrics selling well for them included a gray silk/Lurex chiffon with thick silver foil at $11.53/meter, a polka-dot netting, stretch jacquards and digital prints on neoprene, Maldonado said.
At D. Zinman Textiles, a Montreal distributor, buyers were focused on knits, novelty knits and a plain knit made with an anti-pill yarn, company representative Barry J. McLaughlin said. "That's doing very well." The July show was a very successful one for him, he said, with plenty of new customers. The company exhibits at Texworld twice a year. "This has been a lot better for us than the January show," McLaughlin said.
Customers visiting the Hemmers Itex booth found colorful fake furs in hot pink, cobalt blue, teal, white and rose, said Klaus Dagen, who represents the Nordhorn, Germany–based fabric supplier.
Also popular were their fabrics with coatings, foils and sequins—"anything shiny," according to Dagen. "We are not so worried about price for novelty items," he said. "People are willing to pay a bit more for them."
Business is excellent, Dagen said, adding that the company has seen a 10 percent rise in global sales this year. "The economy in Germany is very strong," he said. "Our customer is not suffering any big issues."
Dagen said about 10 percent of the wholesale buyers he saw at Texworld came from California, but most were from New York, with a few from Mexico, Colombia and Montreal. l