MANUFACTURING
2014 Retrospective: Apparel Employment: Looking Beyond the Numbers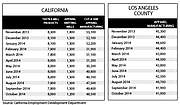 California continues to be the apparel manufacturing center of the United States, thanks to a steady interest in quick-turn delivery and made-in-America production. But that position is maintained by an increasingly lean employment base. The state is also home to a sizable number of manufacturers that import or produce offshore but employ a team domestically to design, sell, import and ship the finished product.
The California Employment Development Department tracks apparel employment in a number of ways. The state agency tracks apparel-factory employment as "cut-and-sew apparel factories" and as "apparel knitting mills," which are vertical manufacturers that produce apparel from fabric knit in-house. The EDD also tracks employment at textile mills.
According to the agency, employment at cut-and-sew apparel factories stood at 48,500 in October, the most recent data gathered by the EDD. At apparel knitting mills, employment remained relatively steady at 1,300 jobs for most of the year before dropping to 1,200 in October. And textile employment stood at 8,000 in October. Los Angeles County remains the region with the largest concentration of apparel jobs, with 41,000 jobs as of October.
But according to the California Fashion Association, the EDD numbers don't fully reflect the scope and breadth of California's apparel and textile industry. In March, the CFA released a fashion industry profile report sponsored by CIT, which found that in Southern California alone, the fashion industry employed 97,384 people working in apparel, textile and wholesale jobs. The report further says that there are more than 190,000 direct and indirect apparel jobs in California.
Indirect apparel jobs include independent fashion designers, graphic designers and showroom owners, as well as the support businesses that focus exclusively on the apparel industry such as software developers, equipment leasing, distribution, compliance and fashion education.
"We have 440 educators in the 21 [fashion] schools," said Ilse Metchek, president of the CFA. "There are [approximately] 786 independent showrooms [including] footwear, accessories and apparel. You have 970 wholesale trade agents and brokers just for textiles. All these things are not in EDD numbers."
According to the Los Angeles County Economic Development Corp. numbers, last year there were more than 7,000 "core industry" businesses operating as textile mills, apparel sewing contractors or wholesale jobbers. There are 961 "non-core" businesses such as textile-mill products, accessories and product-development services and another 2,900 related businesses such as contracted consultants, support services, and wholesale agents and brokers. These 2,900 companies are businesses that specialize in working with apparel companies but are not classified as apparel-related in any government statistic.
Plus, Metchek said, the EDD numbers include staff positions but not freelance jobs.
"EDD reports only those numbers that are reported on W2s. The Household Income report includes the 1099ers but does not define their industry, only their job definition. We have to ferret all this information out ourselves," she said.
Another factor that is not reflected in the EDD's employment numbers is the skill level of the jobs that remain in California. Manufacturers based in California but producing offshore require more tech-savvy employees, who command higher salaries, Metchek said.
"What we've done is increased the level of our salary base," she said. "We're no longer a minimum-wage industry. That's the encouraging part."