IMPORT/EXPORT
2014 Retrospective: Import/Export: Vietnam Makes Great Inroads in Apparel Exports to U.S. Stores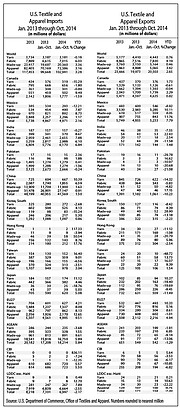 Vietnam is looking like the little engine that could.
Even though the Southeast Asian nation has a population of 93.4 million people, not even 10 percent of the Chinese population, it is becoming an increasingly popular place for apparel manufacturing. The country's wages are about one-third to half as much as those in China, and its workers are known for their fine, detailed work.
During the first 10 months of this year, Vietnam saw its apparel exports to the U.S. mushroom 15.5 percent over last year to $9.3 billion. Vietnam is America's second-largest apparel provider, accounting for 9.2 percent of all clothing sold here.
However, China is still the dominant engine when it comes to providing U.S. consumers with clothing to put on their backs. The country's apparel and textile exports to the United States inched up 1.5 percent during the first 10 months of this year to $41.5 billion, or 39 percent of all U.S. apparel and textile imports. Making a strong showing were Chinese yarn exports, up 10 percent, and fabric exports, rising 6.6 percent.
Other countries that are major apparel exporters to the United States this year are India, Indonesia and Bangladesh. India's exports rose 6.4 percent to $6 billion. Indonesia's exports declined 3.4 percent, but it still shipped an impressive $5.1 billion in goods to the United States.
Even though Bangladesh has been plagued in the past with clothing-factory fires and a building collapse that killed 1,129 garment workers last year, it is another popular spot for apparel production because of its rock-bottom wages. Still, it saw a 1.54 percent dip in its apparel exports to $5 billion.
Overall, the United States saw its apparel and textile imports increase 3.28 percent during the first 10 months of this year over last year for a total of $102.9 billion.
The United States made modest gains in an attempt to export more garments and fabric overseas. During the first 10 months of this year, exports went up 2.65 percent to $20.5 billion. Almost half of that went to Canada and Mexico.