RETAIL
2014 Retrospective: Real Estate: Retail Rents Climb in Beverly Hills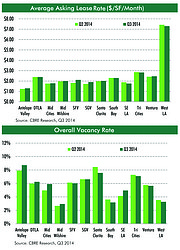 During the past year, rents on several prime Los Angeles shopping streets have stayed the course and not risen over last year.
But that was not true in Beverly Hills. Try to find a spot on North Beverly Drive, and store owners will be paying as much as $20 per square foot—about twice as much as what shopkeepers were paying two years ago. "That street has been one of the stronger streets in retail," said Philip Klaparda, senior associate at Dembo Realty in Beverly Hills, which tracks local retail real estate activity.
Cos, or Collection of Style, the higher-end men's and women's label made by fast-fashion retailer H&M Group, just opened up a spot at 357 N. Beverly Drive. The brand, launched in 2007, is known for its functional, modern designs with a clean look.
And model turned fashion mogul Kimora Lee Simmons is opening a store for her KLS label in the next four months or so once the city permitting process is wrapped up, Klaparda said.
Even though rents are rising on Beverly Drive, they appear tame compared with those on the luxury retail center known as Rodeo Drive, where leases fetch $50 to $60 per square foot. Vacancy on the street is near zero. One of the latest brands to arrive has been Burberry, which moved from its Wilshire Boulevard locale to a new building it rents at 301 N. Rodeo Drive.
Robertson Boulevard has seen its retail rents stay relatively even with last year—going for $12 to $15 per square foot. However, it is still a game of musical chairs on the street. "The street doesn't look as attractive as it will in the next six to 12 months," Klaparda said, noting there are some leases being negotiated with retailers that will add more value to the area.
Hale Bob moved out of a large space at 104 S. Robertson Blvd. to a smaller outpost across the street at 123 S. Robertson Blvd. Nanette Lepore has left as has Monika Chiang, which opened its first free-standing store here in 2011.
In the Greater Los Angeles area, retail vacancy rates dropped slightly from 6 percent last year to 5.7 percent this year, according to commercial real estate–services firm CBRE.
Areas that have low retail vacancy rates include West Los Angeles (3.3 percent), the South Bay area (3.2 percent) and the Mid-Wilshire district (3 percent).