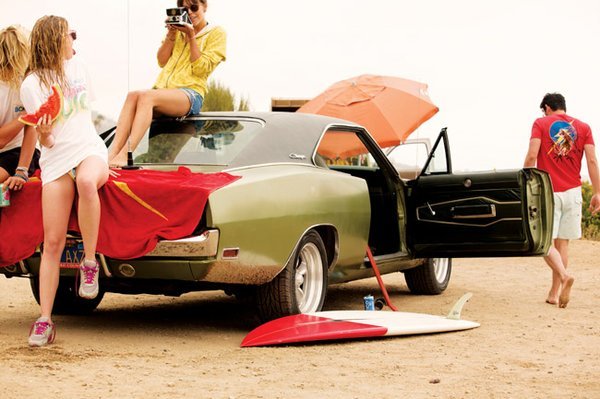 2014 WATERWEAR
Capturing the Style of the Endless Summer
In the denim market, vintage labels such as Dittos from the '70s have been plucked from flea markets for contemporary revival when high-waist silhouettes are predicted to come back. Meanwhile, original brands such as Levi's have introduced capsule collections that tinker with vintage styles for today's customers craving a piece of the past. Not unlike the way rare vintage jeans are coveted by denim aficionados for their authentically worn scars, surfers have been in a nostalgic mood about the wild and exciting yesteryears of surfing—and the shorts those surfers wore. The vintage apparel evokes an era when surf shorts and surfboards were custom and handmade versus the mass-produced multimillion-dollar industry it is today.
"The next generation, they are all looking at the lifestyle of surfing," says Jonathan Paskowitz, current president of Lightning Bolt, who grew up in the thick of surf culture in the 1960s. "[Today's youth says,] 'I just want to buy an old Econoline van, put a queen-size mattress in the back, take my girlfriend, go the beach and spend the whole day surfing. To just chill and surf with your friends—that's the part in the past that everyone's really craving. That's real surfing."
That allure of the endless-summer lifestyle is what catapulted early brands such as Lightning Bolt to international fame. Lightning Bolt's trajectory is similar to many surf apparel brands that blew up, then faded from relevance. Paskowitz said Lightning Bolt caught on viral fire in Hawaii as the most stylish surfers in the world rode boards bearing the bolt logo. During the late 1960s to 1970s it grew to mass global distribution. The brand exploded into excessive licensing during the 1980s, diluting its name among core surfers, until finally it ceased to produce apparel.
Resurrected in 2009, Lightning Bolt parlayed the beloved part of its surf history into the contemporary market with bolt-adorned premium T-shirts made in Los Angeles. Paskowitz said he initially showed the line to surf shops but buyers complained it was too expensive.
"We started getting into that more fashion, art, music, contemporary sportswear mindset— just leaned back on the notoriety of Lightning Bolt—and made good stuff. Through that process, we were able to find an alternate tier to run on," Paskowitz said. Today the brand offers both the nostalgic vintage T-shirts and casual sportswear at competitive contemporary price points.
M.Nii draws inspiration from the earliest days of surfing in the 1950s, before there was such a thing as surf trunks. Surf-industry veteran Randy Hild stumbled upon a pair of M.Nii "Makaha Drowners" shorts, which he brought to colleague John Moore to help investigate their history. They found that "M.Nii" was the mark of the tailor in Oahu who sewed only made-to-measure shorts for each customer. Vintage photos show that Hollywood celebrities and members of the Rat Pack wore shorts made by the M.Nii tailor.
"In our case, the 'second time around' is the creation of an actual brand," said Moore of the new M.Nii, which honors the spirit of Hawaii in the mid-century but is designed for a modern consumer.
"I believe you can track the intangible cool of our surfing lifestyle back to that little tailor shop. There was no surf industry yet, and there were no functional trunks—just the desire to paddle into the unknown and have a damn good time," Moore said.
Another way that Moore honors M.Nii's handmade origins is to manufacture under close watch in Los Angeles.
"In the '70s and '80s the surf industry was built in Southern California and Australian factories, but, in the '90s, all of the sourcing went to China and India so they could pay lower labor wages and get higher margins for investors. Quality suffered and the soul was sucked out of the product," Moore said.
"With M.Nii it's important to us that the collection has an elevated taste level and wearability for all seasons regardless of your location—beach or city," said Moore, citing New York and Japan as two of the brand's strongest markets.
Riding the vintage wave
Capturing the vintage spirit has taken different forms for different brands. Original Jams—a brand founded in Hawaii that was big in the 1960s for its colorful pajama cutoffs—announced a rebirth by new investors and showed modern versions of shorts in the original vintage prints as well as men's casual sportswear. Since Original Jams exhibited last August at Liberty Fairs in Las Vegas, the brand's release date had been moved to 2015 with no comment by the brand spokesperson as to further details.
Hang Ten Gold was launched in 2012 as a high-end version of the brand separate from the Hang Ten products that currently sell at Kohl's. Hang Ten Gold was originally conceived by Jason Bleick, a veteran of the surf apparel industry who has since parted with Hang Ten Gold though the premium label continues to forge ahead with a new designer. The 1970s brand Sundek was able to find a successful niche rebirth with European investors and customers that favor trunk hemlines at mid-thigh length and in the brand's signature bright colors.
As one of the first surf trunk brands to emerge in California in 1959, Katin honors its history by continuing its business as usual. The original owners of the brand, Walt and Nancy Katin, started out with shorts made of boat canvas cloth sewed in their Surfside, Calif., shop with the help of hired seamstress Sato Hughes to fulfill the growing demand for surf trunks at the time. Hughes inherited the business when Nancy Katin passed away in 1986, and today Hughes can still be found in the back of the Katin surf shop in Huntington Beach, Calif., sewing custom Kanvas by Katin trunks.
About eight years ago, Katin spearheaded a young contemporary apparel division that draws upon the company's 60-year history—from the original boardshort fabrications to abundant archive imagery of Katin-sponsored surf contests throughout the years.
"I think [Katin's] unique vibe is our story," said Mac Beu, president of Katin USA. "It's something that we live and breathe. It's not something we wrote on a piece of paper and paid a bunch of money to market."
Katin's story has attracted collaborations with fashion brands from Club Monaco to Apolis for one-off capsule collections. It's resonating with the youth, too. Katin's contemporary apparel won the Best Swim/Active award by the Blogger Project Awards last August.
"A lot of the new emerging brands are doing a great job of differentiating themselves and doing something cool. That's who we're sitting with [at retail]," Beu said.
Both Moore and Paskowitz agreed from experience that relaunching a recognizable brand name is no easier than starting a new label from scratch. In both regards, customers are looking for something that has a fresh perspective that they can personally relate to.
"There's so much noise in the marketplace today, and we're all searching for something meaningful," Moore said. "Technology is meaningful because it can improve the quality of our lives, and history is meaningful because it's already tried and tested. I think we need to find the perfect balance—something informed by the past but reimagined for the future."
Paskowitz said that the emergence of surf apparel brands in the late 1960s and 1970s was all new territory. "We're the underdogs in that way, and people respect that," said Paskowitz of Lightning Bolt competing in the current surf lifestyle space.
"It was different back then; there was more pasture. Now you have to make it yourself."