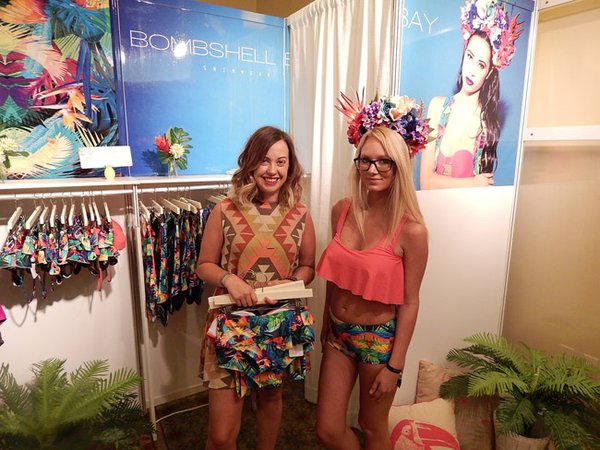 SWIM COLLECTIVE
Swim Collective Has a Solid Show With Plans to Move in August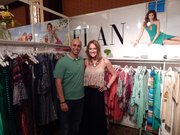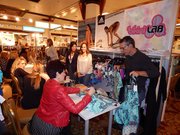 HUNTINGTON BEACH, Calif. —Business was brisk at Swim Collective, where retailers hunted for anything that hinted of newness at one of the year's first swimwear shows.
In a packed ballroom at the Hyatt Regency Huntington Beach Resort & Spa, 70 exhibitors showed coverups and swimwear for the Summer 2014 season.
About 20 percent of them were new to the event, held Jan. 24–25, while 80 percent were repeat attendees, said Shannon Leggett, executive show director.
Several new exhibitors trying to expand their territorial reach decided a smaller swimwear show was the place to grab new business.
That was true for Elan International's first appearance at Swim Collective. The show went well for the Miami-based company, which sells primarily coverups, tops, sweaters, dresses and jumpsuits for the resort crowd. "All the retail stores who showed up seemed thrilled with the show and its sort of quaint, small atmosphere," said Jeremie Brunschwig, chief operating officer for Elan International.
The second day turned out to be slower than the first day, but there was plenty of opportunity to write new business. "Overall, it was a very productive show for us," Brunschwig said. "We opened up new accounts and got to see customers we might not have seen at other shows. Customers seemed happy that it wasn't the chaotic hustle and bustle of other shows."
About 99 percent of the stores Brunschwig and his sales team saw were from California, but they did open one account in North Carolina and had a Texas retailer take extensive notes. "We got about 15 to 25 leads, so hopefully that will take off," Brunschwig said.
This is the sixth show for Swim Collective, a boutique swimwear event where buyers are pampered with free morning coffee, a gourmet luncheon that includes vegetarian fare, afternoon servings of gelato (the line was very long), more coffee in the afternoon, a gourmet-cheese-tasting table and a champagne toast at 4:30 p.m., followed by networking.
Retailers were definitely enjoying the swank ballroom with recessed lighting and plush carpeting. They were also pleased with the size of the show and selection of vendors. "This show is fun, easy and small," said Kori Gomez, owner of Beach West in Pismo Beach, Calif.
Orna Lewis, owner of Body & Sol in Tarzana, Calif., said the show was easy to maneuver, and she was able to see everybody she wanted.
Both retailers were shopping for merchandise that would freshen up their store shelves.
Trend spotting
Bright pastels and bold prints were popular for the Summer 2014 season as well as fringe and flounce tops that started hitting their stride two years ago.
Manufacturers said teenaged customers who practically live at the beach during the summer were interested in mixing and matching swimwear tops and bottoms, whether two different prints or a solid with a print piece.
That way, budget-conscious consumers get more looks out of fewer pieces, said Gerry Salberg, a sales representative for Raisins, a juniorswear label manufactured by Breaking Waves Inc. in New York. The company's other lines also at the show were Raisins Girls, Leilani and Radio Fiji.
Salberg has been showing at Swim Collective since the show debuted on Aug. 2, 2011, at the Balboa Bay Resort in Newport Beach, Calif. "We love the show," he said. "The buyers love coming here. It is a great environment, whether it is the hotel or the good service. As long as the buyers are happy, then more buyers come."
Salberg was busy showing off new, softer colors, including aquas and pinks, and brighter colors, including flamingo, that had been added to the Summer collection to update the silhouettes and give retailers different merchandise. "The juniors girl always needs a second suit, and this gives her a reason to buy," he said. "Fringe is still selling and flounce tops are still selling. And we have a lot of color prints because we are California-inspired."
Odilia Therriault, a sales representative for A. Ché Swimwear,based in Northridge, Calif., said retailers were looking for soft fabrics, new silhouettes and a product with excellent fit. "Underwire is really, really big," she said. "Before, it was just free-form tops."
The most recent collection of A. Ché Swimwear was strong in bright pastels, textured solids and fabric with a gold shimmer.
The contemporary swimwear line designed by Amanda Ché is an off-shoot of Parisa, a lingerie company that caters to the curvaceous woman. With that in mind, the swimwear collection specializes in tops that range in size from 32A to 36F.
Therriault had seen a lot of buyers from e-commerce sites and specialty stores. "The show has been fantastic," she said. "We have been busy all day long."
Some new show participants came from out of state to get more traction in California. Designer Patricia Tombini, whose Hawaii-based line is called Khush by Patricia Tombini, recently expanded her coverups line to include swimwear. She and her sales representative, Trista McWilliams, were testing out the show. "We are growing on the road, and we wanted to get our feet wet in other avenues," McWilliams said.
Even though she made no appointments and only sent out an email blast to retailers, McWilliams said there was a steady trickle of interested customers.
Coming from Melbourne, Australia, was Emily Doig, creative director for Bombshell Bay, a new swimwear company in its third season. Doig was testing the U.S. waters, fresh off the end of Australia's summer season. She wanted to see how her styles and prints perform on the West Coast.
Bombshell Bay's collection—geared to the 25- to 45-year-old woman—has more fabric and coverage than most U.S. swimwear lines. "Our motto is 'Sexy Without the Skin,'" she said.
Her bottoms are higher, riding on the hips, and tops come with wide straps and flounces, bandeau tops and rash guards. One two-piece swimsuit has a detachable peplum made with reversible fabric.
Some online retailers as well as a retailer from San Diego had stopped by the Bombshell Bay booth. But Doig was finding that Americans are more interested in tinier suits while Australians gravitate toward swimwear that is more functional and comfortable.
For the next Swim Collective in August, a new venue has been booked. The Aug. 12–13 edition of the show will be held at the St. Regis Monarch Beach Resort in Dana Point, Calif., where 140 exhibitors are expected to be on hand, Leggett said.
A new swimwear and activewear show, called Riviera by CurvExpo, will be taking over the Hyatt Regency for its debut Aug. 11–12. It is being organized by CurvExpo in partnership with the International Swimwear and Activewear Market.