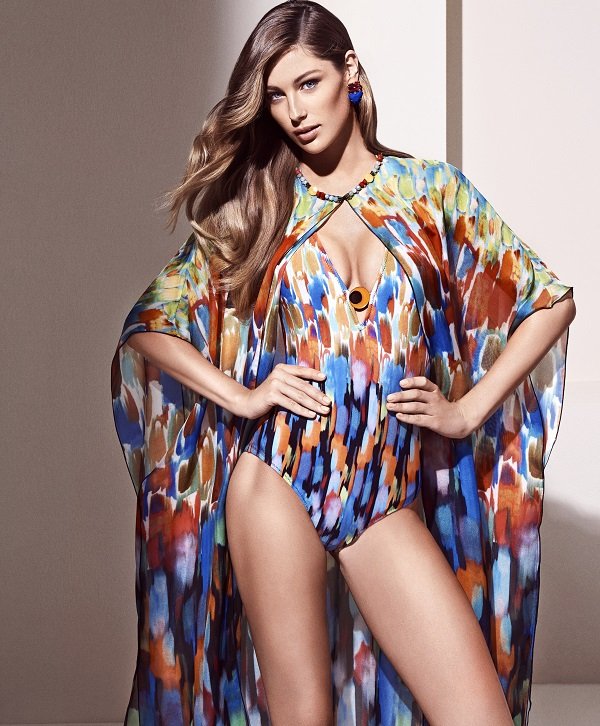 GIDEON OBERSON
International Man of Swimwear
Swimwear designer Gideon Oberson reacquired his namesake label last year and is reestablishing his place in the international swimwear market. Oberson is known for his playful and creative approach to designing swimwear and accompanying accessories and has been doing so for more than half of his 50-year career designing high-end apparel.
The current collection, which bows at Mercedes-Benz Fashion Week in Miami Beach, boasts 130 styles—including swimwear, coverups, and accessories—and he sought inspiration from "24 hours in the day."
"I was inspired by the cycle of light and color over a 24-hour period for this collection," Oberson said.
It is vibrant and colorful—with cutting-edge textiles, print work and exclusively designed accessories—and will hit retailers in early 2015.
The collection is broken into three color categories. The first light of the day includes fresh hues of "Mikonos" blues, indigos and whites and includes coverups in sheer knit Galaba and light cotton dresses. Then, noontime brings "Caribbean" warm hues of oranges, reds, lime and yellows in geometric prints, accessories and pareos. Finally, nighttime was inspired by the bright city lights of Manhattan, which incorporate black, gold, shiny materials with stones, black-and-white embroidery prints and sexy mesh looks.
Already selling across Spain and Israel, Oberson's sales team is focusing on breaking back into the U.S. and Russian swimwear markets. In the U.S., they are participating in Mercedes-Benz Miami Swim Week with a sales team based in Miami, as well. The collection is priced at medium to high, starting at $150 wholesale.
Haute couture history
Born in Italy, Oberson studied couture fashion and design at the world-renowned Ecole de la Chambre Syndicale de la Couture Parisenne in Paris before launching his own haute couture house, Gordon 36, in Tel Aviv. In 1975, he switched to swimwear, opening a factory and launching his namesake swimwear label. Oberson's swimwear and luxury beachwear brand was built on the premise of creating top-quality, chic and sexy styles and accessories for the contemporary, sophisticated woman. Everything was designed and produced in Tel Aviv. His designs sold in top department stores and boutiques in numerous countries around the world.
In 2002, Oberson was appointed to be the Gottex Models Ltd. (parent company to Gottex) head swimwear designer while designing both for Gottex and Gideon Oberson collections. He designed for both labels for nearly 10 years until Gottex Models Ltd. bought out his label and moved the production to Asia. Although he says he did not mind working with production in Asia, he preferred to design and produce in his backyard, relatively speaking. From there he solely focused on his haute couture house for 10 years.
Part of the agreement when Gottex Models Ltd. bought his label was that if it ever ceased production for any reason, he would reacquire his namesake swimwear label in full, which is what happened in 2013.
Upon reacquiring Gideon Oberson swimwear, he continued to design in Tel Aviv and produces each collection in Turkey. He officially relaunched his brand under his own direction in 2013, selling throughout Spain and Israel as of 2014, when returning and new customers welcomed back his designs with excitement.
"I am very happy to be back designing swimwear," Oberson said. "It is a good feeling. Fashion should have a different way of consideration aside from aesthetics. It needs to express life and society. My collection was very successful in the past, and we look forward to what the future holds."
More information about the Gideon Oberson collection can be found at www.gideonoberson.com. For sales-related inquiries regarding the 2015 swimwear collection in the U.S., contact Maria Minnis at (305) 446-8016.