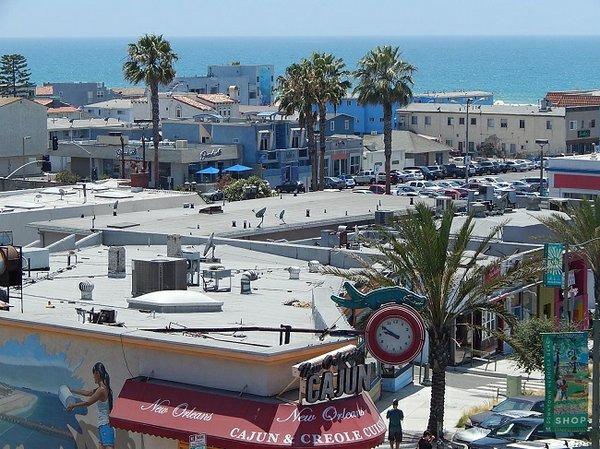 HOW SWIMWEAR DESIGNERS DO THEIR JOB FAR AWAY FROM CORPORATE HEADQUARTERS
Islands in the Stream
Designing swimwear and running a swimwear company are worlds apart. So why shouldn't a swimwear designer's studio be a world apart from corporate headquarters? Many are. The corporate suits may be in Manhattan, but the bathing suits are on the beach, particularly in California. California has spawned some of the greatest historic names in swimwear—Catalina, Cole of California, Tyr and Ocean Pacific. That's why several swimwear designers whose corporate headquarters are on the East Coast have set up shop not far from the Pacific Ocean. It's the perfect spot to inhale the sea air and soak up inspiration.Three swimwear designers share how they work thousands of miles away from their bosses and still get the job done.
Anna Kenney
Keeping the California Vibe in Anne Cole Swimwear
If you climb to the rooftop deck above Anna Kenney's Southern California design studio, you can capture a sweeping view of white-capped waves cresting along the long, sandy beach located just a few blocks away. The Hermosa Beach pier sticks out into the Pacific Ocean like a big wooden stick. Skinny California fan palm trees punctuate the picture-postcard view.
Kenney doesn't have to go far for inspiration when she designs the tankinis, one-pieces and bikinis that make up the Anne Cole collection of swimwear. But the corporate headquarters of In Mocean Group, which owns the label, is 2,800 miles away in the bustling and busy world of New York.
"This is pure design here," said Kenney, inside her studio, which is one of a handful of creative office spaces inside a contemporary-style commercial office building. "It's nice to separate ourselves from the corporate office."
Kenney is one of a number of swimwear designers who have opted to keep their design studios close to the beach instead of grabbing a corner in the corporate headquarters.
"This is the new way," Kenney said, surrounded by blasts of colorful fabric. "There is less interruption, and we can focus on design."
The studio is compact, with barely enough room for Kenney and her new assistant designer, Susan Blahut, to move around. Two large Apple desktop computers anchor down opposite corners, an Epson Stylus printer commands a sizable space in another corner, and a lime-green surfboard is propped up in a fourth corner. In the middle is a rectangular table littered with colorful fabric swatches.
Kenney has been designing swimwear for more than 20 years. Most of that time was spent creating bathing-suit styles inside corporate offices for Apparel Ventures, Authentic Fitness, Lunada Bay and Warnaco. At Warnaco, she worked on the OP label until it was sold to Iconix Brand Group in 2006. That same year, after some urging and help by former OP Chief Executive Dick Baker, Kenney decided to set up an independent swimwear design studio in Manhattan Beach, another seaside suburb of Los Angeles.
Baker helped Kenney wrangle some new accounts: one from Warnaco, one from Sperry Top-Sider and another from Crocs. She also worked on the Hot Tuna label. "That was the beginning of my having a satellite office," Kenney recalled. "And after one year, I said, 'Wow. It's working.'"
When In Mocean came knocking at the door in 2011 and asked Kenney to be the chief designer for Anne Cole Swimwear, she was thrilled. The Anne Cole label exudes California, and she had worked on the label many years ago.
The label is named after a real person, Anne Cole. The veteran swimwear executive launched the brand in 1982 after working in marketing and sales for years for her father, Fred Cole, who founded Cole of Catalina and Catalina swimwear. Anne Cole, now in her late 80s, retired from the swimwear industry several years ago, but she still lives in Beverly Hills.
"The spirit of Anne Cole is bright, fun, colorful and very sassy," Kenney said, explaining why it was important to keep the design space in Los Angeles and near the beach.
With so many technological advances in communications, freight logistics and design, a satellite design office is no longer an impossible accomplishment. Kenney uses Skype for most of her meetings with New York executives. Print designs and patterns can be uploaded by computer and emailed. Samples and fabrics can be dispatched overnight with quick-acting logistic services.
Once a month, Kenney flies to New York for back-to-back meetings on Seventh Avenue with Gary Silverman, executive vice president at Anne Cole Swimwear, and Meredith Glasser, vice president of sales at Anne Cole Swimwear.
"I show them my whole process, where I am going on color, prints and silhouettes. I do a whole blown-out presentation," Kenney explained. "And then I come back, and we do another round of prints and color. We have three or four meetings before the line is done."
But everything from design to patterns is done in Los Angeles. "All the color services are here, and the print studios are here, too," the designer said.
For patternmaking, Kenney tracked down the original patternmakers for the Anne Cole label when it was made by Authentic Fitness, a division of Warnaco, once headquartered in Commerce, Calif. The patternmakers now have their own company. "I do all the fitting there and oversee it on a fit model," Kenney said. "Then when it's done, I send the patterns to New York. They do the finishing touches there and push it overseas for production."
Laurie Allyn
Going Solo in Swimwear Design
Laurie Allyn's design studio may be 20 miles away from the Pacific Ocean, but an acid-blue tile floor could almost double as the bright blue sea.
Color is everywhere in this two-room space housed in a generic concrete and glass office building in Woodland Hills, Calif. The hooked rug under the designer's vivid red desk has a field of psychedelic flowers woven into a soft turquoise background.
The walls are an explosion of swimsuits in all sorts of shapes, sizes, fabrics and hues. Swatches of prints hang next to suits. Straw baskets are filled with zippers, beads and braids.
More than one year ago, Allyn decided that after decades of designing at some of the top swimwear companies in California and New York, she was ready to venture out on her own as a freelancer.
It really wasn't much of a stretch. For 14 years, she had been designing bathing suits for New York–based In Mocean, but she always maintained a design studio in the San Fernando Valley. "When I started with In Mocean, my son had been born. I didn't want the rat race of working in corporate life. I wanted to have my own setup and more flexibility," said the designer, whose company is called Bikini Guru Inc. "For me, personally, the freedom of my thought process is much more efficient because I am not interrupted by the day to day that goes on in an office. ... I like being able to start early with emails and get that done, and then in the afternoon I have time that is quiet."
And Allyn can organize her office exactly the way she wants. "I like to keep my surroundings in a bit of chaos. I find it creatively more stimulating," she explained. "That is not always the best situation in an office. I always felt guilty if management came in and I had to be digging through things."
Allyn's principal client as a freelance designer is A & H Sportswear, the 77-year-old swimwear and sportswear company in Pennsylvania owned by the Waldman family. The company is famous for its Miraclesuit label as well as other misses swimwear brands, such as Mainstream, Cyberswim, Penbrooke and Eco Swim.
Allyn is in charge of the new Eco Peace by Aqua Green label, a juniors swimsuit label debuting in July made of sustainable fabrics made of recycled plastic bottles and other materials. The fabric is being knit by one of the top swimwear fabric makers in the Los Angeles area.
"Sustainability is on young people's conscience a lot more," said Allyn, who is always tracking trends and consumers' attitudes.
Allyn flies back to Pennsylvania every three or four months to meet with executives at A & H Sportswear, detouring to Manhattan to scope out trends in clothing, art and lifestyles. Likewise, executives from the company fly to California to visit the designer's studio and go over color schemes, print ideas and silhouettes. "That has been the most productive," the designer said.
Allyn may be miles from the beach, but it is still close enough to visit quite often. She frequently ventures to Zuma Beach on the north side of Malibu to get a handle on what young women are wearing at the popular sunbathing and surfing spot. "The girls at Zuma are very indicative of what everyone is wearing in California," she explained. "I also like to go to the Midwest and look at the stores and what people are wearing at the lakes to see what is going on there. That customer should not be forgotten."
The trend she has spotted at Zuma Beach is the brief bikini bottom with a shirred back. "I haven't seen that much butt cheek on the beach before, but they are all wearing it," the designer said.
Stylish young women right now are also in love with one-piece black maillots that have some pizazz with cutout sides and more skin showing.
Allyn has spent nearly 30 years tracking swimwear trends. After studying at Brooks College in Long Beach, Calif., and the University of California, Los Angeles, her first job in the swimwear industry was at Apparel Ventures in Gardena, Calif. She started out as a piece-goods buyer, becoming familiar with the vast world of fabric salespeople and swimwear resources. Then Marvin Goodman, the swimwear company's founder, gave her a chance to help design swimsuits.
After nearly seven years of designing bathing suits at Apparel Ventures, Allyn moved over to Authentic Fitness/Warnaco, which had a number of swimwear labels such as Anne Cole, Cole of Catalina, Catalina, Calvin Klein and Speedo. She worked primarily on the juniors line Sunset Beach as well as the Oscar de la Renta and Cole of California labels.
She was at Authentic Fitness/Warnaco for seven years before taking a job with In Mocean, where she worked primarily designing the Xhilaration swimwear label for Target. "I made a presentation every six weeks," Allyn recalled.
Now the swimwear designer is on her own at Bikini Guru, still making those frequent swimwear presentations.
Rod Beattie
From White to Blue
The idea of working out of New York was out of the question for swimwear designer Rod Beattie, whose label Bleu/Rod Beattie was bought early this year by New York–based Amerex Group.
"When the Amerex team came out for a meet and greet, they asked me how I felt about coming to New York on a permanent basis," said the swimwear designer, who got into the business shortly after finishing school more than 25 years ago. "I said, "I'm an Angeleno and get inspired by the West Coast. There is a lot more creative energy out here. Here the climate is at least 75 degrees almost all year-round. I live an indoor/outdoor life, and I like to swim.'"
Water is very important to Beattie. He used to be on his high-school swimming team. He has a pool in his backyard, and he often goes to the Rose Bowl Aquatics Center in Pasadena, Calif., not far from his home, for some serious lap swimming.
So everyone agreed that Beattie would keep his design studio in South Pasadena, a 10-minute drive from his house, in a creative commercial office building that has 11 large spaces with exposed wood beams, polished concrete floors and a basketball hoop in the patio. His neighbors include a brand-management company, a sustainability consulting firm and a design company.
Since Amerex acquired the label in February, Beattie and his senior designer, Harriet Fleming, have made a few trips back to New York to develop the first collection under Amerex.
So far, Beattie's trips to the East Coast could be likened to parachute designing. He flies in on a Tuesday, makes presentations and does back-to-back meetings on Wednesday, and then returns to the West Coast on Wednesday night.
For the most part, Kelly Logsdon, Amerex's vice president of sales, ventures to Beattie's spacious studio for several meetings to develop the collection. "It is better when we work here because there are less disruptions," said Beattie, surrounded by racks of swimsuits, swatches of fabric, plastic boxes of trims, long white tables for conferences and design strategy, and a wall of windows that let in a blaze of light. "There are not people constantly coming by and interjecting. It gives a little more intimacy and privacy working here."
Beattie's design studio is divided into two separate offices. On one side, he and his senior designer hammer out the creative side of the collection. The room next door is all about production. Beattie has two patternmakers, three garment sewers and one cutter who make his samples. "I think Amerex felt our pattern and sewing team was a valuable asset to leave here. When they work in New York, they don't have a sewing and pattern team. It is all done in Asia," Beattie noted.
To keep up design communication, a flurry of emails is sent back and forth to New York as well as to Amerex's office in Shanghai, China, which handles fabric acquisition and production for the contemporary line, sold at Nordstrom, Bloomingdale's, Everything But Water and other stores around the country.
Bleu/Rod Beattie is a relatively new swimwear label that hit the poolside circuit in 2011. For several years, Beattie had been working on the La Blanca by Rod Beattie line at Apparel Ventures in Gardena, Calif. After Apparel Ventures founder Marvin Goodman died in 2009, the company was sold to Manhattan Beachwear.
Around this time, Beattie was approached by A.H. Schreiber—a New York company whose swimwear labels include Longitude, Badgley Mischka, Delta Burke and Sirena—to join forces and launch his own label with them. That was at the end of 2010. This year, A.H. Schreiber sold the brand to Amerex, known more for its line of coats and jackets rather than swimwear. But the company is trying to round out its apparel offerings to cover all seasons. Other swimwear labels it owns or produces include Red Carter, Jessica Simpson and Jones New York.
Already, Beattie is expanding on the swimwear line. With Amerex's office in Shanghai, the designer is looking forward to creating more pieces such as coverups that go with his label, geared for the woman between the ages of 25 and 55.
For Beattie, it would complete the design circle. After graduating from the fashion department at Otis College of Art and Design in Los Angeles, his first job in the swimwear trade was designing coverups at Apparel Ventures.