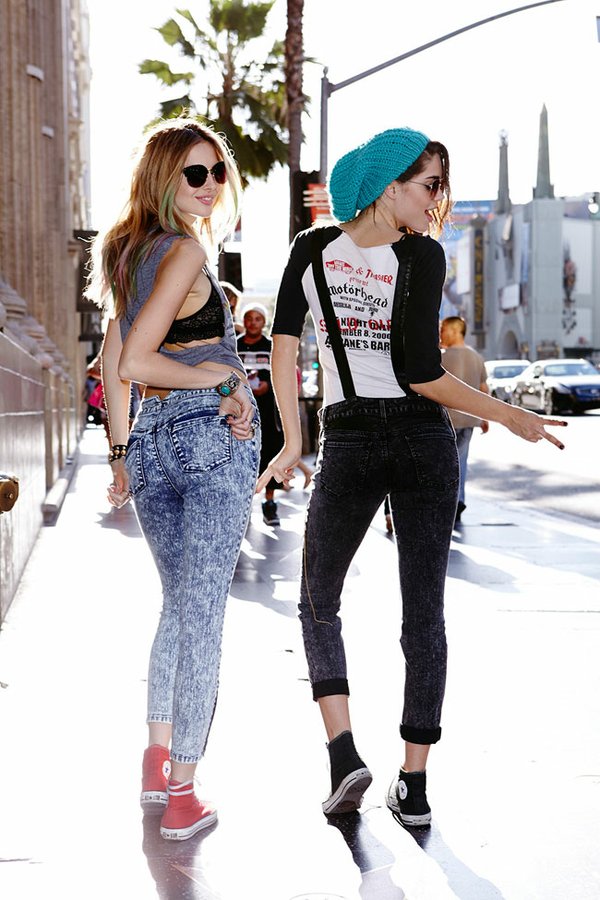 DENIM LOUNGE
Customized Denim for the Trade
Founded in June 2013 by denim industry veteran Daryl Rosenberg, Denim Lounge Inc. seeks to revolutionize the denim customization process for premium juniors buyers. Taking a two-pronged approach, Denim Lounge Inc. has launched a branded line, Denim Society, in addition to offering a Crafting Bar service.
Although the act of individualizing denim for consumers is not foreign to retail, Rosenberg said Denim Lounge Inc. is the first of its kind to offer customizable options for the trade through its Crafting Bar. Private-label retailers are able to pick the fabric, thread, wash, hardware, trim and embroidery from the showcase, enabling a "design-it-yourself" service in which buyers have the freedom to be creative. Categories of apparel include jeans, crops, shorts, skirts, joggers, overalls, denim dresses and rompers, and jackets in denim and non-denim.
"We have been very successful in the first year with our crafting bar," Rosenberg said. "The buyers we have worked with already appreciate the customization."
Beyond the Crafting Bar, the premium juniors branded line, Denim Society, is built upon clean designs that specialize in fabrics and washes. Each season, the brand will have an array of the same categories available through the Crafting Bar. Furthermore, if buyers see styles they like from a Denim Society collection but want to change any detail or wash, they have the ability via the Crafting Bar.
Denim Society is taking a multi-channel distribution approach, catering to boutiques, specialty stores, department stores and big-box retailers. The company just started shipping its Fall/Holiday collection to retailers which include Nordstrom, Mod Cloth, Hot Topic and Tilly's plus others across the United States. Denim Society also plans to launch its own website with an accompanying social-media campaign in July.
"Social-media initiatives will play an important role in the brand-building process of our in-house brands, as well as enhancing the consumer shopping experience, by inviting them into participatory dialogue," Rosenberg said.
All of Denim Lounge Inc's merchandise is manufactured overseas, mainly in China, with some capabilities in Indonesia and Kenya. It also works with mills around Asia to source the best-quality fabrics at competitive prices.
Denim Lounge Inc. is bicoastal. The Crafting Bar is based in New York in the Denim Society showroom at 231 W. 39th St., Suite 1006, where the company's sales team helps buyers with their merchandising strategies. The company's corporate headquarters are located in downtown Los Angeles at 120 E. Eighth St., Suite 804, where designers are housed and pre-production takes place, including full-service EDI, replenishment, and inventory management and quality-control systems. Both the New York office and LA corporate headquarters are used for buyer meetings.
For more information, please visit www.denimloungeinc.com.