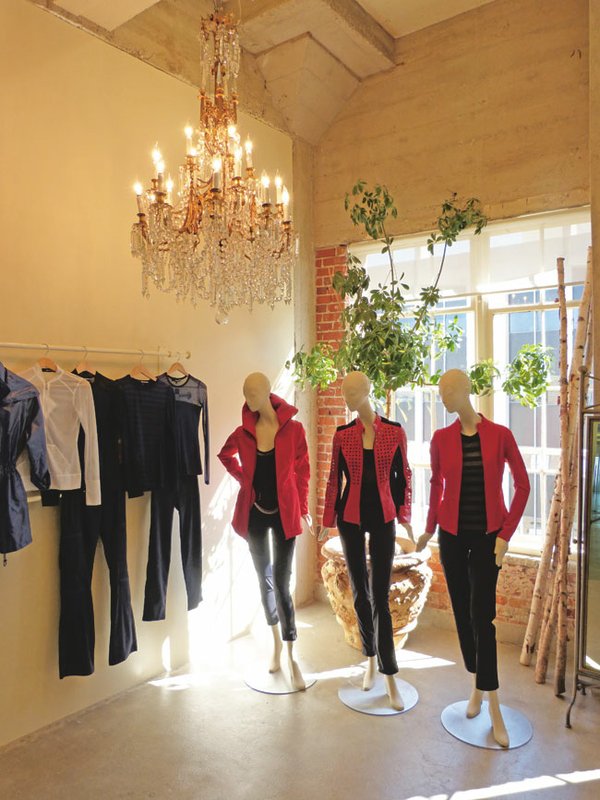 SHOWROOM PROFILES
Showroom Profile: The Vonderheide Showroom
The Vonderheide Showroom
The New Mart, Suite 1200
(213) 488-9334
www.thevonderheideshowroom.com
The Vonderheide Showroom has relocated to a new space on the top floor of The New Mart with a wrap-around view of the changing landscape of downtown Los Angeles.
Diane Vonderheide said she loved the exposed brick walls and tall columns in the 1,600-square-foot showroom and asked to relocate after more than three years on The New Mart's 11th floor. (Vonderheide moved to The New Mart after 20 years at the California Market Center.)
In the days leading up to the June 9–12 run of Los Angeles Fashion Market, Vonderheide and her associates Kathleen Keyes and Natalie Asselstine were putting the finishing touches on the space, including plans to add several tall trees to give the space a luxe garden penthouse look. The antique Spanish chandelier from the 11th-floor showroom now hangs in the entrance of the new space.
"I wanted to keep the architectural details of what was here," Vonderheide said.
The showroom also provides a perfect backdrop for the collections, including designer sportswear brand MICHAEL Michael Kors and "performance fashion" collection Anatomie, which is made in the United States from European technical fabrics.
"We like to say it [takes you] from pilates to the Polo Lounge," Vonderheide said.
Other collections in the showroom include Paperwhite, a collection of tailored shirts and sportswear; Yoshi Yoshi by PJ, a sweater collection from Japan; Seasonal Whispers jewelry; Los Angeles–based handbag collection Paige Hamilton; and Canadian belt collection Suzi Roher.
"She's the queen of belts," Vonderheide said. Designs range from casual boho chic to sophisticated evening styles.
The collections are geared toward the bridge and designer market. Wholesale prices range from $52 to $125 for Paperwhite, $30 to $175 for Anatomie and $118 to $165 for Yoshi Yoshi. The accessories collections are wholesale priced from $20 to $100 for Seasonal Whispers to $95 to $375 for Paige Hamilton. Suzi Roher belts are priced from $65 "all the way up," Vonderheide said.
To accommodate buyers who prefer to shop Los Angeles market over the weekend, the Vonderheide showroom is open on Sunday, June 8.