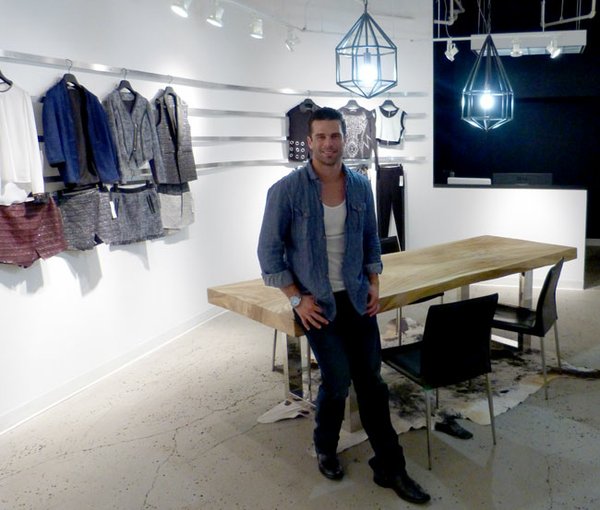 SHOWROOM PROFILES
Showroom Profile: Moss/Jang
Moss/Jang
California Market Center, Suite B579
(213) 568-1560
Model, financial adviser, engineer and now apparel maker, Dustin Moss recently opened a new showroom at the California Market Center to showcase his newly launched young contemporary women's line, Moss/Jang.
The clean lines of the 500-square-foot space are punctuated with natural elements inspired by Moss' Montana roots. A wood slab conference table sits on a cowhide rug, but the rest of the space features white walls, metal fixtures and a concrete floor. A work space at the back features a deep-charcoal accent wall.
Moss did much of the work on the showroom himself. He wanted the space to be "a little masculine" but provide a backdrop to showcase the collection.
"I want it to be all about the clothing," Moss said.
Moss/Jang is designed for the working woman in her 20s who needs well-made, beautiful clothing at an affordable price.
"She's just out of college; she needs to step up her wardrobe," Moss said, adding that many fast-fashion brands don't have the quality his customer needs and the high-end brands are out of her price range.
"There's room in the market," he said.
Wholesale prices for Moss/Jang run from $17 to $36," Moss said. "Mid-$20s is our average," he said.
To create the collection, Moss partnered with Sang Jang, a longtime Los Angeles–based manufacturer who produces brands for a different market. Moss and Jang started working on the line about eight months ago and took a few pieces to the Fame show in New York, where they landed a few orders from buyers.
"The price was right, the design was right," Moss said.
All the Moss/Jang samples were made in Los Angeles, and Moss and Jang hope to keep a portion of the production in the U.S.
There are about 100 pieces in the Fall collection, including tops, skirts, jackets, pants and dresses, many with unexpected details such as leather trim, metal hardware and appliqués.
The collection is geared toward department-store buyers, and Moss looked at several spaces in the Los Angeles Fashion District before choosing to open at the CMC, which had "the best vibe," he said.
For Los Angeles Fashion Market, Moss is setting up a candy bar in the front of the showroom space.
RELATED STORIES