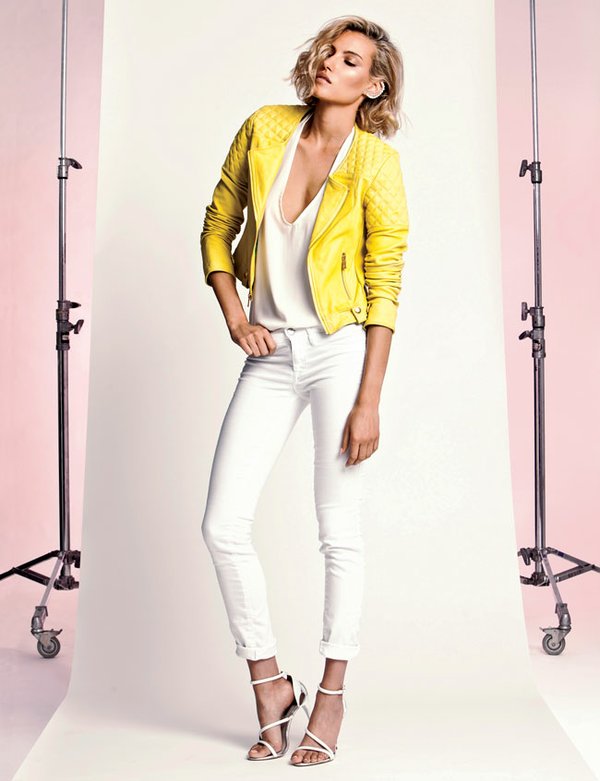 AS BY DF AND ASTARS
Fueled by Heritage, Contemporary by Design
The jewelry-like gold zippers are polished by hand in Japan, the motorcycle jackets are lined in silk, and the pattern on a leather shift dress is also done by hand. Laser cutting the piece would be faster, but it would result in charred edges and would sacrifice the unique look of the hand-cut style. These are the exacting details Denise Fócil puts into her contemporary collection, AS by DF, one of the two women's collections Fócil designs under the Alpinestars umbrella.
"I like craftsmanship. I'm extremely detail-oriented," Fócil said. "If my customer is investing in a jacket, I want the zipper to flow. It's like buying an amazing handbag."
At the company's U.S. headquarters in Torrance, Calif., visitors to Fócil's showroom walk past a mannequin dressed in motorcycle leathers and a helmet. Alpinestars' motorsports history serves as the design inspiration for AS by DF and its sister line, ASTARS.
Fócil joined the company in 2000 designing men's and women's motorcycle jackets in the company's offices in Asolo, Italy, located near Venice. The Fashion Institute of Design & Merchandising graduate came to the motorsports company with a background in fashion but soon learned all about working with leather, where a body needs protection and where it needs ventilation, and all the performance details needed to create a technical motorcycle jacket.
"My passion is fashion—I'm a fashion girl," Fócil said. "I always wanted to do a contemporary line and decided to start with the DNA of Alpinestars, [incorporating] the real details that are on a motorcycle jacket but translated in a fashion [way] using beautiful soft leathers."
She began by designing Alpinestars by Denise Fócil, but in 2013 the company rebranded the line as AS by DF.
The line is carried in contemporary boutiques such as Satine, Fred Segal Santa Monica, Stylehäus, Lulu's and Rawk in Southern California. Nationwide, the company is carried in 300 boutiques, but California is the brand's strongest market, and last year the company tripled its sales for both lines, Fócil said.
For Fócil, the design process for AS by DF starts with the fabrics, which are sourced primarily from Europe. In addition to buttery soft leathers, the designer incorporates silks and original prints. For Spring 2015, there are French tweeds and jacquards.
There are shift dresses, maxis and thigh-grazing skirts, narrow trousers, liquid blouses, and cashmere sweaters. At the heart of the collection are jackets and vests that clearly draw inspiration from Alpinestars' heritage. There are quilted shoulders, diagonal zippers, tab closures and zip-closure pockets. While many of the jackets are leather, Fócil also includes a few fabric versions for retailers who like the look of the moto jackets but want a textile alternative.
"I'll look at Alpinestars and get inspiration, but everything they use is so technical," Fócil said. "I want to find my version. I'm lucky to have this library of research and the heritage behind it."
Wholesale prices for AS by DF range from $65 to $99 for tanks/tops and $90 to $226 for dresses. Sweaters are $90 to $150. Textile jackets range from $125 to $170, and leather jackets are priced from $298 to $390.
"It's for the super-LA girl," Fócil said. "It still has all the same DNA but in a relaxed way."
Although Fócil designs the two collections separately to stand on their own, many of the same customers purchase both brands.
"We tend to find we dress the same woman on different days of the week," Fócil said.
Much of the ASTARS line is produced in Los Angeles, including some of the knit fabrics. ASTARS also features pieces in luxe vegan leather with an ultra-soft hand.
"I wanted to offer a vegan alternative," said Fócil, a vegetarian who "lives in leather."
ASTARS wholesale prices range from $23 to $36 for tops and tanks, $53 to $69 for dresses, and $44 to $80 for sweaters and jackets.
The "Fast Lane" dress features an abstract print and is trimmed in black. The "Shailene" romper comes in a fun thumbprint polkadot. There are vegan-leather jackets and vests as well as jacket styles in fabric.
"There's a functional side of me that comes from where we started," Fócil said. For example, the "Malibu" strapless top features a hidden shelf bra for support.
"We do really well with date-night tops for ASTARS," she said.
One way Fócil stays connected with her customer is through trunk shows with her top retail stores around the country.
"I like to hear the feedback," she said. "I learn so much from that."
One recent trunk show for AS by DF was held at Stylehäus, the members-only styling service based at The Grove in Los Angeles.
"We live in a social media–driven industry, and a brand must engage with that audience to truly succeed and build itself," said Marina Monroe, co-founder of Stylehäus. "Trunk shows serve as a major resource to generate buzz across all types of media and are a chance to connect to clientele about new collections in a fun, social setting."
Monroe praised Fócil's "eye for contemporary wear."
"The AS by DF collection is always on trend but consists of a lot of versatile staple pieces as well," she said. "She experiments with colors, prints and shapes, giving a fun, unexpected edge to classic items such as leather jackets. The collection also has a great price point for the contemporary shopper."
For Los Angeles Fashion Market, AS by DF and ASTARS will be shown at the Stacey Rhoads Showroom in The New Mart. For more information, visit www.asbydf.com and www.astarswomens.com.