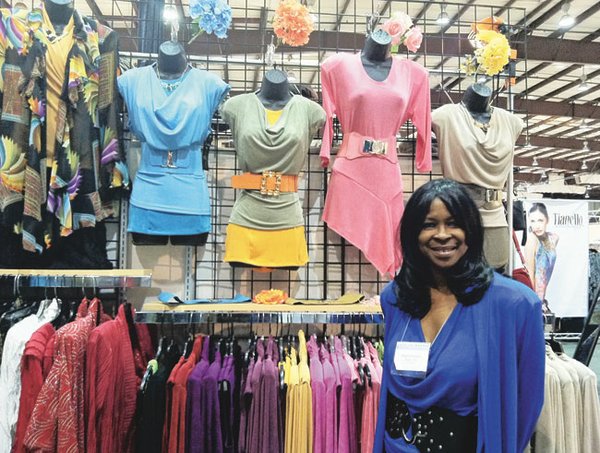 FASHION MARKET NORTHERN CALIFORNIA
New Lines and Established Collections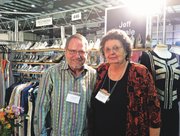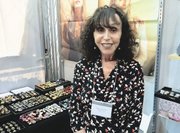 SAN MATEO, CALIF.—Buyers at the Oct. 19–22 run of Fashion Market Northern California at the San Mateo Event Center shopped more than 250 exhibitors displaying everything from high-end formalwear to moderate styles and accessories at deliveries ranging from Immediate to Spring 2015.
Attendees praised the show's intimate setting and easy-to-shop pace.
"[FMNC] is a slower pace and has a lot to offer. You're not waiting in line to give your order to someone," said Tami Anderson, owner of the Tapestry Boutique, a moderate women's apparel shop in Winnemucca, Nev., which carries lines such as Barry Pollock and Karen Hart.
Anderson said although she also attends larger shows such as MAGIC in Las Vegas, she likes to travel out of state to FMNC for its convenience and intimate feel. "Here you can find what you're looking for, and you get one-on-one service," she said.
Louise Nunn who owns Clothes Mine in Sutter Creek, Calif., attended FMNC to meet her sales rep of 25 years, Jeff Smale. He represents seven different lines, including Mon Cherie and Terani Couture, two bridal and social-occasion lines.
Nunn, whose store is in a small tourist destination, estimated that 30 percent of the merchandise she carries is purchased at FMNC. Her store includes high-end formalwear and wedding gowns to moderate men's and women's attire, including sweaters, lingerie and outerwear.
Cissy Wechter, owner and designer of Vintage Button Bling, displayed for the second time at FMNC her line of jewelry made from vintage buttons and old typewriter keys. Wechter's line of jewelry starts at $15 wholesale for rings. The prices increase for necklaces and bracelets. She said her rings are made in the United States with sterling silver or a lead-free mixture of alloy metals.
"You would put it in the steampunk category," Wechter said, "It's nostalgic, and young buyers like it, too."
John Walter, a 35-year veteran sales representative from Danville, Calif., projected an increase in sales at this season's FMNC, especially for his Spring 2015 fashion lines.
"[Retailers] didn't buy a lot last spring, but we had great weather, so they blew through their orders," said Walter, who has attended FMNC for the past 15 years. "Because they did so good this past spring, they're looking optimistic toward next spring."
Walter represents seven lines, including Samuel Dong, an upper moderate novelty line of jackets and coats that range from $89 to $159 wholesale and dresses that range from $59 to $79 wholesale. "[FMNC] is one place we always get new accounts," Walter said.
Stephanie Haukaas, a sales representative for Suko Jeans and La Paris Petit, a Los Angeles–made line of tie-dye and lace shirts that range from $26 to $32 wholesale, said sales were up. "The buyers are willing to spend more money than they were a few years ago," she said.
FMNC is the only trade show where Haukaas exhibits, and she shows four times per year. "Dedicated buyers come and see me here—it's in the middle of my territory," she explained.
Haukaas said she prefers the local turnout at FMNC over larger-scale trade shows because of the show's personable appeal. "You can spend more time with people," she said. "It has a more intimate appeal to cultivate longer customer relations."
It's that local, more personable feel that also attracted new exhibitors, which made up 10 percent of the booth space this season, according to Suzanne De Groot, executive director of FMNC.
"We continue to attract new exhibitors and buyers to the show," she said.
Barbara Dillon of Landfill Dzine, based in California's Central Valley, premiered a line of handbags and totes made from recycled irrigation supplies. Wholesale prices start at $89.
"People are interested," Dillon said. "The input I'm getting is they like the story and like the product; it's encouraging,"
Oakland, Calif.–based designer Phyllis Emelda made her first-time appearance at FMNC after a colleague represented Emelda's self-titled line of womenswear at the August FMNC trade show.
"[FMNC] is local; it's a good start. I know my market is out there," said Emelda, whose moderate line is wholesale priced from $28.50 for shirts to $85 for jackets.
For Emelda, FMNC is already a tried-and-true market. At her line's August debut, the San Francisco Opera boutique purchased an order of her jackets. "I call them ornamental jackets. They're easy to wear over basic tops and pants, and you're dressed up," she said.
Retailers such as Gloria Reed, owner of I Cee Fashions in Fresno, Calif., purchased three new lines for her women's boutique, specializes in high-end to moderate fashions for women over 40. Reed purchased an Italian line of blouses and silk skirts by Baci ranging from $60 to $79 wholesale. She also ordered jewelry from Meridian, an Oakland-based jewelry designer and maker. "It was the first time we had seen them. It was unique and nicely done," she said.
After a full day of browsing the open-booth format, Reed, like other retailers who stay the night at nearby hotels so they can make the most of their trip, wasn't done by closing time. The casual open-booth format and personal customer relations at FMNC make retailers want to take their time.
"We'll be back tomorrow," Reed said at the end of opening day. "We didn't finish up."