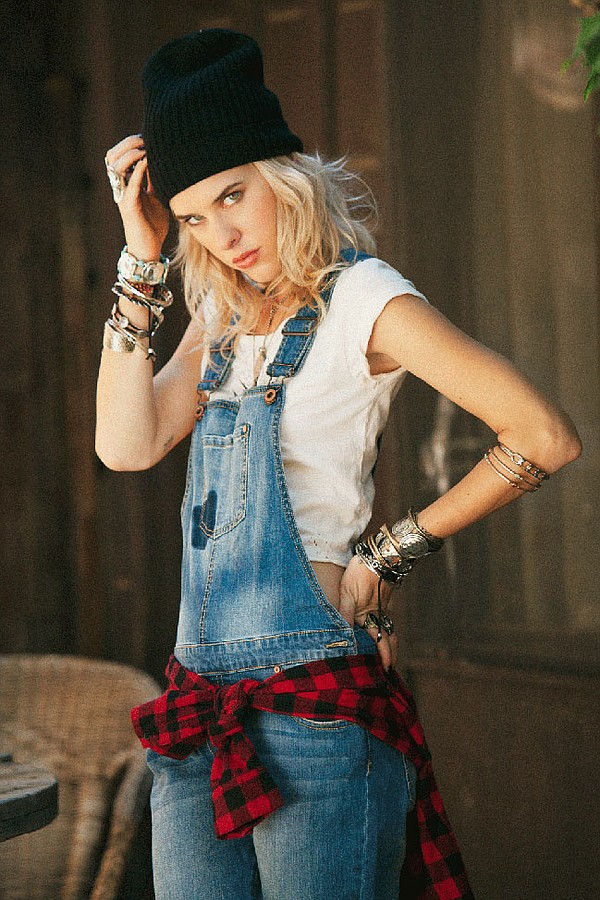 Z SUPPLY
Fast-Growing Apparel Brand Builder is Driven by Decades of Experience
Tucked into one of the many nondescript office parks in Irvine, Calif., is apparel manufacturer Z Supply Inc. Just a little over a year old, Z Supply is growing into a mini-powerhouse producing contemporary womenswear that is sold in 1,800 stores from coast to coast.
Founded in 2013 with four lines—Black Swan, Others Follow, White Crow and Z Supply—the apparel maker has managed impressive growth in a short time.
The company, which recently expanded into the top floor of the building it leases on Cowan Street near John Wayne Airport, cleared $8 million in sales last year with its four brands and expects to nearly double that to $14 million by the end of this year, said Greg Garrett, Z Supply's owner, co-founder and driving force.
"When we moved here, I thought we would never fill it up," he said. Now the top floor is being primed for an expanded staff of customer-service reps and marketing staff, and a bright space is set up as a photo studio for look-book and catalog shoots.
"I don't like giving numbers, but we are above projections, and our profits are accordingly," said co-owner Glen Reder. "I think our growth is phenomenal. I've been around a long time, and I haven't seen a company that has this growth."
The quick growth comes from a long history in apparel and a core team that has worked together forever.
"Everybody in this building has been associated with me, seriously, for over 30 years," said Garrett after introducing several of his team and giving a résumé of connections too long to recount here.
Garrett, tall and gray-haired with the casual air of a long-time Californian, started his career in the surf industry, working at original surf brand Hang Ten, then at Ocean Pacific in the 1970s. He eventually moved into womenswear in the mid-'90s after a challenge from Tilly's founder Tilly Levine.
"She threw something at me and said, 'Here, make this,'" he remembered. "And I did, and I thought, 'Boy, this is fun.'"
Garrett never looked back. He was the brand manager for BB Dakota and went on to work for Los Angeles–based Swatfame Inc., makers of Kut From Kloth and other women's lines.
Then, in 2013, along with partners Reder, who gave his age as "old," and John Zhao, who gave his age as "young," Garrett (age: "middle") founded Z Supply.
Reder handles the financial end of things while Zhao deals with production and sourcing and acts as go-between with the company-owned Chinese factory, where the clothes are made.
"I do everything else," said Garrett, the public face of the company, who manages the brand and connects with retailers.
His partners' biggest job is "helping me sleep at night," he said.
Retail-minded
Unconcerned with of-the-moment trends, the company updates as necessary to stay current but retains the core look of each line. More to the point is making sure the retailers want to sell it.
"We weren't really thinking of filling a niche but rather an opportunity for the retailer, to offer them a contemporary line at a great margin. Our product is much more specialty driven but offered at a great price for the retailers," Garrett said.
Z Supply's model is straightforward but winning—sell a certain style to targeted groups of women with little overlap in the stores that cater to them.
For instance, Black Swan (wholesale priced at $28–$80) is aimed at women 25–35 and has a sophisticated, feminine style with a romantic twist and sells at Nordstrom and high-end specialty stores such as Agoura Hills, Calif.–based M.Fredric.
Black Swan is "a diverse line—it's eclectic in a way," said Fred Levine, co-owner of M.Fredric. The line fits the retailer's customer of "hip working moms" ages 30 to 40, Levine said, citing Black Swan's variety of fabric choices and pieces such as work-appropriate sheath dresses, easy weekend tees, maxi skirts and faux-leather jackets. "It's like Free People for a more mature customer," Levine said.
Others Follow's Spring 2015 line is filled with cut-off shorts, surfer-girl tanks, skater-skirt minis and music-festival kimonos aimed at 16- to 21-year-olds. It is Z Supply's "bohemian" brand and wholesales from $14 to $42 to retailers nationwide such as Tilly's and Irvine, Calif.–based No Rest for Bridget.
Garrett describes the Others Follow girl as the type who can pack her wardrobe into a backpack for a day at the beach followed by a night out.
"It's that young California girl," said marketing director Beatrice Rosu. Of Z Supply's four lines it is the brand with the most Instagram followers and is a fan favorite among the selfie-taking blogger set.
White Crow sets out to dress women ages 21 to 30 who love artisanal denim and graphic tees—the girl who wants to wear combat boots with her cut-offs and overalls instead of flip-flops. "The 'edge' was the White Crow,'" Garrett said, explaining the delineation of the lines. "It's just more denim-driven—urban." White Crow's wholesale prices range from $18 to $80 and is sold at specialty stores such as The Buckle and Chicago-based E Street Denim.
Finally, Z Supply is a line of comfortable soft knit tees, tanks, hoodies, pullovers, and track and yoga-style pants carried at retailers and department stores nationwide. With wholesale price points ranging from $9 to $20, the line of essentials is a retailer favorite.
"We recently discovered Z Supply's knit line, and we're doing extremely well with it because the fabrics are really fine and have a silky feel,'' said M.Fredric's Levine. "And the body styles range from fitted at the hip to more-generous cuts anybody could wear." The retailer sells Z Supply "Boyfriend Hoodies" for $42 and racer-back tanks for $26 online.
Besides adding space and staff, Z Supply has expanded its social-media presence by connecting with bloggers who wear their clothing and in the past few months has gotten a new distributor that has cut the company's turnaround time, making it possible to beef up online sales. Z Supply also has its eye on overseas markets such as London and Hong Kong, where Garrett gets inspiration, he says.
But next up is a menswear line that Garrett hopes to launch in August 2015. In the corner of the spacious first-floor conference area hangs a rack of Z Supply tees mixed with masculine-looking pieces and a few items from Others Follow.
Garrett has been shopping the mix to retailers as a way to illustrate the vibe of what a Z Supply menswear line would look like.
"There's a lot of opportunity there," he says.
Despite the company's growth, Garrett thinks of Z Supply as a start-up.
"I always want to maintain that exciting energy that is often found at start-up companies," he says. "I want to keep it fun for everyone—retailers and employers. You have to keep it fun and new for the retailer so that they keep buying into your brand."