LA FASHION DISTRICT
UPDATE Feds Raid LA Garment Companies in Mexican Drug Money-Laundering Scheme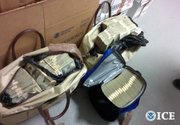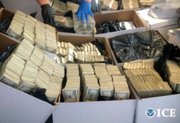 In an intriguingly named investigation called Operation Fashion Police, scores of federal, state and local law enforcement agents on Sept. 10 swarmed dozens of residences and apparel businesses in the Los Angeles area to crack down on a long-running money-laundering scheme benefiting two drug cartels in Mexico.
Approximately 1,000 agents from U.S. Immigration and Customs Enforcement, the Federal Bureau of Investigation and other agencies raided at least 70 locations, including a business near 12th and San Pedro streets in the heart of the Los Angeles Fashion District. Law enforcement officials executed dozens of search warrants, and authorities arrested nine defendants.
The money-laundering scheme involved money drops of millions of dollars in cash, often delivered in plastic-wrapped bundles. As much as $80,000 in cash was delivered in a dog-food bag, authorities said.
"The scope of this current case and its potential long-term impact are truly unprecedented," said Claude Arnold, special agent in charge of U.S. Immigration and Customs Enforcement in Southern California.
During the raid, law enforcement officers found $35 million in cash stuffed in cardboard boxes at a condo. At a Bel-Air mansion, another $10 million in cash was found stuffed in duffel bags, and four safes are still to be opened. More than 30 bank accounts with approximately $19 million were seized.
Altogether from the raids officials confiscated at least $65 million in cash and bank accounts around the world.
The search locations included 19 storefronts, six warehouses and numerous residences, authorities said. Several of the targeted warehouses encompass an entire city block and are filled with clothing. Authorities said they would be seizing the clothing in the warehouses, depending on the evidence uncovered during the ongoing searches. No brand names were mentioned in the indictments.
"We think this is a widespread problem in the fashion district, where businesses are often involved in international trade," said Robert Dugdale, assistant U.S. attorney in charge of the criminal division, who was one of several people speaking at a press conference announcing the raids. "We are stepping up our efforts to go after their [drug cartels'] money, which is the lifeblood of these criminal organizations."
Three defendants associated with QT Fashion were arrested. QT Fashion does business under QT Maternity and Andres Fashion. The three QT Fashion people arrested were Andrew Jong Hack Park, 56, also known as Andres Park, of La Cañada-Flintridge; Sang Jun Park, 36, of La Crescenta; and Jose Isabel Gomez Arreoloa, 49, of Los Angeles.
Four people associated with Pacific Eurotex were arrested after an indictment alleged they received laundered money of at least $370,000 in bulk cash on four separate occasions. They were one of 160 Fashion District companies visited by Homeland Security Investigations agents in the past informing owners they were required to report cash transactions involving more than $10,000 in currency.
The four people from Pacific Eurotex who were arrested were Hersel Neman, 55, of Beverly Hills; Morad Neman, 54, of Westwood; Mehran Khalili, 45, of Beverly Hills; and Alma Villalobos, 52, of Arleta.
Two other people associated with Yili Underwear and Gayima Underwear were arrested. They were Xilin Chen and Chuang Chen of Temple City. A third suspect, Aixia Chen, is a fugitive currently being sought by authorities.
In another case unsealed the same day of the raids, authorities allege that the Sinoloa drug cartel used QT Fashion to accept and launder ransom payments to secure the release of a U. S. citizen kidnapped by the narcotics organization, held hostage and tortured on a ranch in Mexico after a drug deal went wrong.
Apparel imported into the United States with U.S. dollars is exported to Mexico via wire transfers and then sold for pesos. Those pesos are then deposited in Mexican bank accounts, reportedly for the Sinaloa and Knights Templar drug cartels.
This elaborate kind of transaction has become increasingly popular since 2010, when Mexico changed its banking regulations stipulating that deposits in U.S. dollars for regular customers must be limited to no more than $7,000 in cash a month. The regulations were devised to stop drug cartels from shuffling their drug money into Mexican banks.
"The garment district has been known for years as a location where people have been dropping drug proceeds in cash to businesses to export clothes and then sell those goods in Mexico," said ICE's Arnold.
The investigation that prompted the raids began in May 2013. "We used confidential informants and other methods to identify money brokers who were dropping money for the drug cartels at businesses in the garment district. We then inserted undercover agents, who took over the job of transporting the money and dropping it off at the garment companies on behalf of the money brokers," Arnold said. "By doing that, we had an inside eye on what is happening."
Federal officials said this was just the beginning of taking down a large network of criminals in the garment industry who have been helping the drug cartels for years.
"These investigations grow tentacles," Arnold said. "We will identify the money brokers and get more evidence on them. The ultimate goal is the cartel members."
The garment-industry investigation is similar to a toy-industry investigation that took place several years ago in Los Angeles and surrounding cities.
In 2010, the owners of Los Angeles–based Angel Toy Corp. were accused of receiving bags stuffed with alleged cocaine-sales proceeds and laundering them into pesos. The owners pled guilty to charges of "structuring" and were sentenced to three years in prison.
In 2012, the owners of Woody Toys Inc. in the City of Industry, Calif., were accused of laundering as much as $6 million in drug money over seven years.