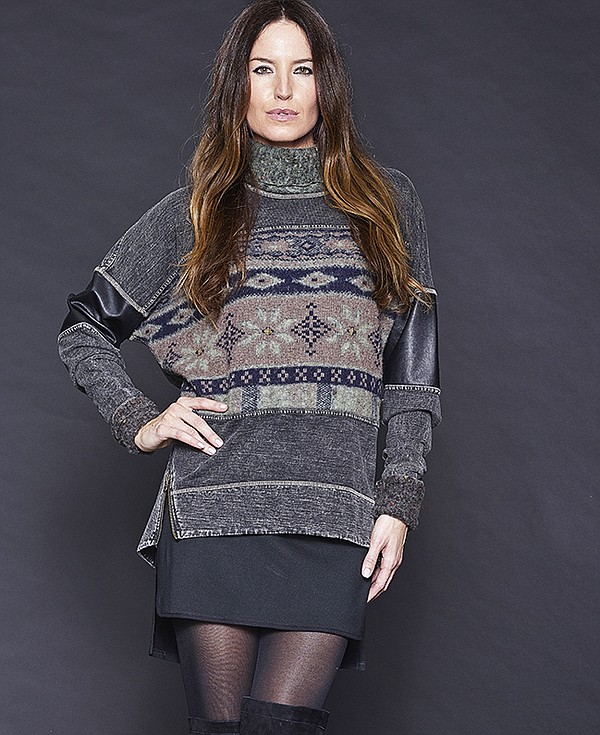 ETHEREAL
Targeting Women Who Want a Touch of Edginess

Designer Anita Rinaldi-Harnden is a big believer in garment-dyed clothes. For the past 20 years, she has worked with this special dyeing technique and fell in love with the endless possibilities it renders.
"When it comes back from the dye house, it is always a surprise," said the long-time designer, who has worked on such labels as Julie Mango and Studio Ease,a division of Kellwood, as well as Pear and Nadia sportswear.
Rinaldi-Harnden is putting this special process to good use. She recently joined forces with Fabric Avenue, a Los Angeles fabric warehouse and textile converter owned by Sam Masri, to launch a new line called Ethereal, a contemporary modern line for the misses woman looking for clothes that have an artistic, funky air.
"It's a casual luxury lifestyle line," Rinaldi-Harnden said, showing off the collection that launched for the Fall/Winter 2015 season. Everything is cut and sewn in Los Angeles. Wholesale prices range from $59 to $99.
Brought on board to be the label's chief executive is Paul S. Lewis, a veteran clothing executive best remembered for his Paul Stanley line of clothing, which emerged in the mid-1970s and lasted until the mid-1990s. It was geared toward the working woman seeking career clothing that was smart but professional. "The Ethereal line is very soulful, elegant and brings newness to the modern woman," Lewis said.
The idea is to give the misses customer several styles that are fresh and urban with an edgy twist. "I wanted to do something that is novelty and that appeals to an ageless customer and in real sizes," said the designer, who got her degree from the Otis College of Art and Design in Los Angeles. The garments will range in size from extra small to extra large.
Some of the Fall/Winter 2015 collection's secret ingredients are unique trims and novelty details that include zippers made in Los Angeles, grommets and riveted studs shaped like spikes or cupcakes that appear along shoulders, around seams or dance along hems. There are also Italian trims made of wool blends, yarn-dye twill tape or faux leather. Feather fringe rings the bottom of some pull-on tops.
Fabrics are mostly Cupro rayon with a silky bemberg finish, French terry Modal, cotton, Tencel, indigo denim, French terry and wool blends imported from Italy.
Tops have a stylish cut with lots of short fronts and long backs. Other tops have angled hems, going high to low from one side to the other.
There are quilted baseball jackets garment dyed to give them a two-toned effect and jackets with faux fur or faux-leather trims around the lapels or neckline.
Skirts are designed with a flair for the creative. One black indigo denim skirt with raw edges along the seams has a special coating to make it look like leather. Another skirt in French terry Modal ties in front with what appears to be sleeves from a knit top. There are even ribbed edges along the sleeves' cuffs for emphasis.
Some of the pants and jackets made of indigo denim are sanded and have a mineral wash treatment.
Ethereal is carried in Los Angeles at the Sharon Koshet Showroom in the California Market Center as well as in showrooms in New York, Atlanta and Dallas. The national sales manager is Allen Abrams. For more information, call (310) 699-4469.