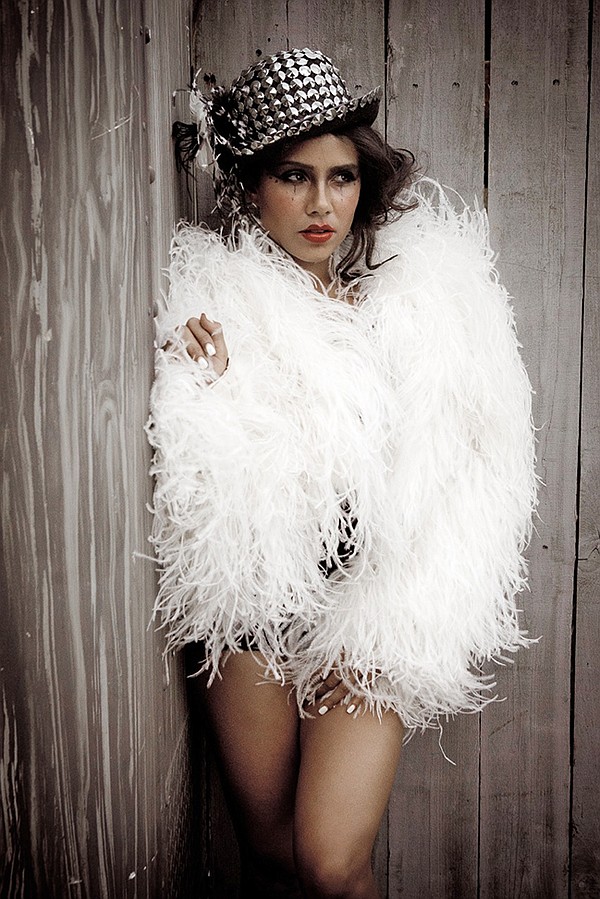 MOTHER PLUCKER
From Flights of Fancy to Feathered Jackets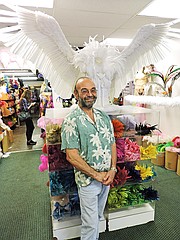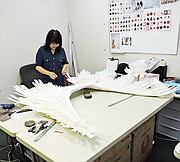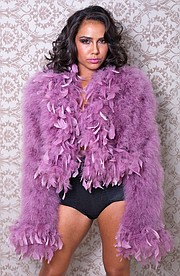 Drop by the Mother Plucker Feather Co. just east of downtown Los Angeles and you'll find designers wandering among hundreds of bins of brightly colored feathers, racks of feathered boas and displays of feather flowers, elaborate feathered epaulettes and collars, and, of course, wings.
Pop star Justin Bieber wore a giant pair of Mother Plucker's white wings over his bright purple suit when he took the stage for his recent roast on Comedy Central.When comedian Sacha Baron Cohen appeared to crash into musician Eminem at the 2009 MTV Movie Awards, he was wearing a pair of Mother Plucker wings (and little else).
Mother Plucker has been making feathered apparel, fashion and home décor accessories and providing feathered supplies for almost 40 years. The company has been providing feathers and feathered designs to everyone from Cirque du Soleil to Britney Spears to Annie Lennox to Michael Jackson.
"I did a headdress for an elephant once," Mother Plucker owner Willy Zelowitz said. The giant red headpiece is one of many custom-designed pieces pictured in a photo album of Mother Plucker designs. There's a tiny pair of dog-sized wings for a photo that appeared on a Hallmark card. There's a pair of wings with a 16-foot wingspan Zelowitz designed for a ballet dancer in Showtime's "The Red Shoes Diary" series. Zelowitz said he worked on the design for a year to make sure it was lightweight and properly harnessed and balanced to keep the wings stable while the dancer performed on point.
"It was a feat of engineering," he said.
In addition to custom pieces and studio work, which makes up about 30 percent to 40 percent of Mother Plucker's business, the company produces private-label apparel and lingerie.
Miley Cyrus' stylist recently commissioned an ostrich-feather coat for the pop star, which prompted Zelowitz and his team to introduce a new group of feathered jackets to its wholesale offerings. One of the company's feather bolero jackets have already been picked up by Patricia Field in New York.
Zelowitz is looking to expand his apparel offerings and sees a demand for higher-end U.S.-made products like his. Mother Plucker has two full-time sewers—"and three more on call," said Zelowitz, who typically sees his business pick up dramatically in the months leading up to Halloween. In total, the company employs 12 people—"and a few interns." Some of his team, such as lead fabricator Betty Lo, have been with the company for nearly 30 years. Others, such as controller and design coordinator Stephen Landreth, started as interns.
"My second week here, they said, 'Miley Cyrus' stylist is here,'" Landreth recalled. "We made a couple of jackets—and they wanted them quickly."
Within three months, Zelowitz hired Landreth. He has been with the company for a year and a half.
Lelan Berner, an Emmy Award–winning costume designer, heads up design and production as lead designer. She has been with the company for 13 years but has known Zelowitz since he first started selling feather earrings.
"Lelan is super-creative. Her knowledge is unreal," Zelowitz said. "She worked with the studios for years. I was lucky to grab her."
Mother Plucker feathers are sold by the piece, by the yard, by weight and by length. The company sources feathers from around the world, including chicken and duck feathers from China, guinea hen and peacock feathers from India, ostrich feathers from South Africa, and white turkey feathers from the U.S.
"We're the only country that has the white color," Zelowitz said, noting that most turkeys have brown feathers. For small jobs, Berner will hand dye feathers in-house. For larger orders, Mother Plucker sends the feathers to a local dyehouse.
Mother Plucker's feather flowers are wholesale priced from $7 to $45 each. Feather-trimmed lingerie pieces are currently priced from $19 to $50. The two-ply ostrich jackets are wholesale priced at $700 to $1,700.
Chandelle/maribou jackets (made from turkey feathers that have been split) range in wholesale price from $150 to $135.
Feathered wings run from $29 to $1,495 for production. Top prices for custom-designed wings are limited by "my imagination and my customers' pocketbook," Zelowitz said. "Sometimes we get full rein on things."
For more information, visit www.motherplucker.com.