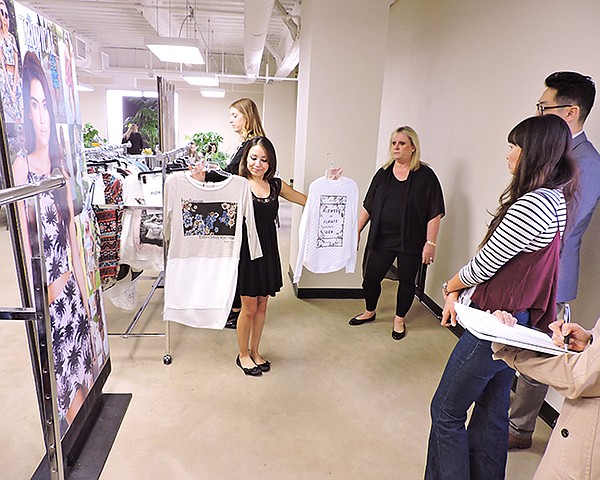 BARBARA FIELDS FORECAST FOR FALL '15
Boho, Fur, Sports Luxe and Shaping Denim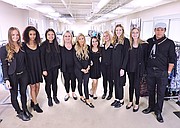 Look for the bohemian hippie-chic trend to continue for Fall '16 with some new items such as the blanket coat, the fit and flare pant, the fur jacket, and ponchos in all lengths to drive the look forward. That was part of the fashion forecast from the Barbara Fields Buying Office, which has been covering the juniors market for 30 years at the California Market Center in Los Angeles.
Founder Barbara Fields led a small group of buyers and other apparel-industry executives through the trends on April 7, the first day of the Los Angeles Majors Market. But Fields' opening-day presentation was one of a series of presentations held beginning on April 2 and running through April 10.
Fields said she prefers to host fashion seminars, rather than a runway show, so she can personalize the presentation. Among the retail stores who booked appointments for the presentation were JCPenney, Stitches, Blue Notes, YM, Sirens, Siblings, Urban Planet, Rue 21, Citi Trends, Bon-Ton Stores, Ron Jon Surf Shops, Sears, Love Culture, Papaya, Ross Stores, Windsor, Just Fab and Australian retail chain Ice.
The lightning-fast but comprehensive trend overview covered everything from the sports luxe trend to the ongoing boho look.
"This is going to be the year of fur," Fields said. "We're loving the short fur jackets, the athletic jackets and styles in sherpa and shearling. Even T-shirts resources are making fur vests."
Look for fur to turn up on removable collars and paired with knits for fur-front sweater styles.
Sweaters take on new details like zipper trim. There were graphic sweaters, metallic variations and styles made with marled and clipped yarns. Look for lace-trimmed sweaters as well. The back zip sweater is a new look. The sweater dress will also continue to be strong, Fields said. Fields, who scouts the international market for new looks, found cable-knit sweaters in Barcelona, London and Tokyo.
"Last year we had an extraordinary year— ca-ching, very big volume—for sweater dresses," she said. "This year we believe it will be even bigger."
Also continuing to check are ugly Christmas sweaters, but new this year are styles that light up or play music. The Christmas graphics will also show up on leggings, and some manufacturers are packaging them in boxes for easy holiday gift giving.
For woven tops, plaid shirts will continue with new looks in longer tunic lengths and hooded silhouettes. "The next shape in plaid shirts are open cardigans, a lot with crochet trim," Fields said.
Other key woven tops include chambray and denim as well as the classic white shirt.
"The white-shirt category will be explosive," Fields said. "It was all over Europe."
For T-shirts, there are lots of graphic prints, "a lot of hashtag words" and licensed imagery from classic rock bands and current films. To help retailers plan their T-shirt deliveries, Fields gives her buyers a licensing calendar to tell them when major movies will be released.
The lace-trim trend carries over into T-shirts, which feature lace at the hem or inset at the collar or yoke. Another strong trend in tees are rib-knit fabrications.
At Top Shop in London, Fields found a custom T-shirt shop, where she had a tee made up with the wording "Who Needs a Workout When Barbara Fields Is in Town."
One of the biggest growth areas is the sport luxe trend, Fields said. "So many resources opened up in this category." Look for T-shirts, tanks, leggings and bra tops.
Denim silhouettes include the super skinny, the high-waist and the flare.
"The 20- and the 21-inch flares are starting to check," Fields said.
Look for zipper details, destructed styles and knit fabrications. An important trend is denim that shapes, lifts or is padded, she said.
There are also denim jackets and vests. "One thing that's not selling is the jogger," Fields said.
Going further forward, Fields sees the sport luxe trend continuing into Spring '16 with an emphasis on brightly colored lightweight jackets.
"The windbreaker will be a million-dollar item," she said.