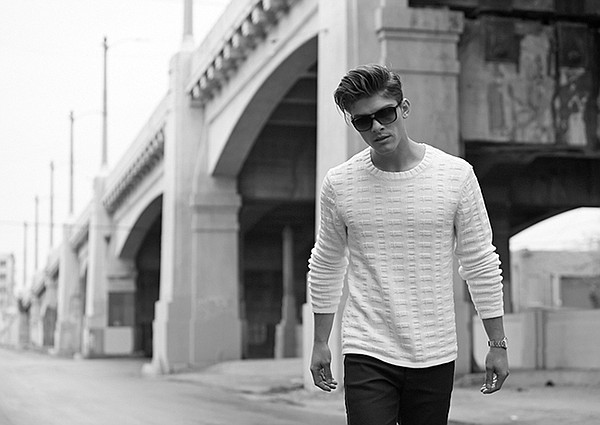 ONE BXWD
William Rast's Danny Guez Launches New Menswear With a Technical Edge
When it comes to manufacturing denim and marketing celebrity brands, Danny Guez has a proven track record. At the start of his career, in 2004, he launched the premium-denim line William Rast with music superstar Justin Timberlake.
But after more than a decade of building a reputation playing the jeans and stars game, Guez decided to turn his career's conventional wisdom upside down.
His new menswear line, One Bxwd, which bowed earlier this year at The Tents at Project trade shows in New York and Las Vegas, will not focus on denim. There are no celebrities attached to the One Bxwd label, which is a division of his Los Angeles–based Blvd Brands, said Guez, chief executive officer of Blvd Brands. He also is a man with a lineage in the Los Angeles denim business. He is the son of Paul Guez, founder of 1980s designer denim brand Sasson Jeans.
"Before, it was celebrity, celebrity, celebrity and press, press, press," Guez said of his business strategy. "Now it is product, distribution, then press. What you need to do is focus on product. Stores don't care about celebrity."
Guez has big plans for One Bxwd, which is scheduled to fulfill its first delivery on July 30. Along with wholesaling it to department stores and debuting a women's line, he hopes to develop branded boutiques for the new label.
But he intends to put ambitions for the brand on a solid foundation, test the brand in the market and find out what its strengths and weaknesses are. "There is no speed-to-dollar. We will be very profitable, but I will take time with this," he said.
Guez partnered with Gustavo Garibay, a former Guess and 7 For All Mankind designer, to develop One Bxwd. Unlike Guez's previous lines, One Bxwd is focused on shirting, sweaters and outerwear with a few bottoms in twill and denim. The line is intended to offer European styling and American comfort.
As a point of difference, the clothes were made out of a technical fabric that Guez developed with a Turkish fabric mill. He was inspired by the activewear market's strides in using technical fabric to beat odors and control temperature.
"We were able to put an active component in the men's collection. It will offer wicking and breathability [properties]. Fabric will have an anti-bacterial and anti-sweating edge. I really feel that is where fashion is going."
One Bxwd also will offer a tailored look with its slim-cut styles. "It accentuates the best parts of a guy: shoulders and chest," Guez said. The pants also will feature some stretch. Guez is planning to offer 120 SKUs per season.
The line's looks include textured knits, V-neck sweaters, jeans-style jackets, sweaters with a flight-jacket silhouette, distressed denim, Henley shirts and collared button-down shirts.
Guez started working on the line last year when he traveled to Europe and Japan to find unique inspiration for a brand. "I wanted to step outside the box," he said.
However, with this new line, he did not entirely abandon his old way of doing things. His process for developing lines typically starts with travels to European trade shows, such as Première Vision. He gets ideas for new collections at those shows and then whittles down the fabrics to 10. The end result should be something that is affordable but can also offer quality and solid workmanship.
One Bxwd is part of a family of brands such as Abbot & Main, a casualwear brand for men and women. It was launched in 2012 and was inspired by the lifestyle of Los Angeles' Venice Beach neighborhood. There's also Caelum Lifestyle, a woman's activewear brand that was co-founded with Brooke Burke-Charvet, a television personality, entrepreneur and fitness enthusiast. Also in the family of brands is denim line Dylan George and tequila line Pasión de Mujer.
Guez hopes to continue to build brands that don't seem to match at first sight. "What really turned me on is what Iconix and what LVMH have done," he said. "Take a bunch of brands that don't compete with each other and [work on them], and eventually they'll grow tentacles with a long reach."