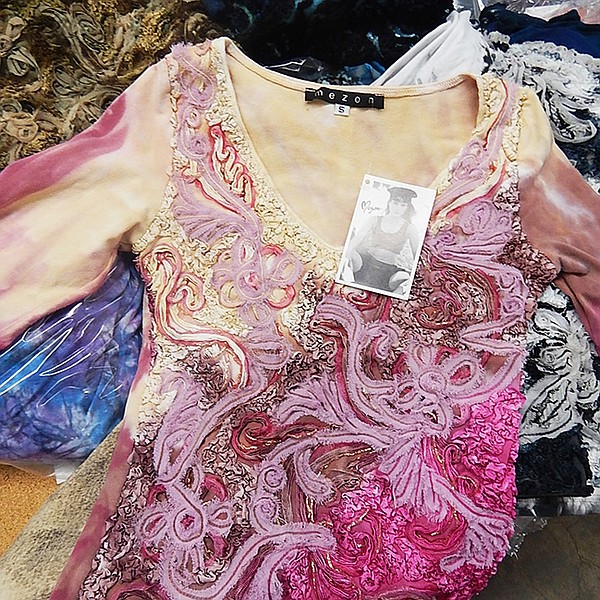 MADE IN LA
Mezon Travels the Tie-Dye Route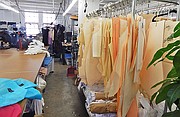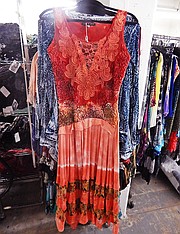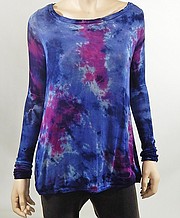 For nearly 25 years, Feri Sayyah has manufactured her intricately embroidered and ruched tops and dresses in Los Angeles even when many of her competitors searched for cheaper factories overseas.
"Do you think we could go to China and have the production control there that we do here?" she asked rhetorically.
Sayyah works with four contractors in the Los Angeles area that cut and sew the complicated patterns that go into her tops and dresses made from rayon jersey, silk blends, linen, lace or cotton under her Mezon label.
A local dye house tie-dyes her garments, a signature part of her design, which she developed in 1998 when she converted her kitchen into a little tie-dye factory with pots filled with various Rit dye colors to experiment with different hues and designs.
"That's when I realized the magic of tie-dye. That was a turning point, and I fell in love with it because you could create your own colors," she said. "I also thought I have to do something nobody else can do."
Now located in the heart of the Fashion District on Santee Street, Sayyah designs and works out of a large industrial space that doubles as a warehouse nearly packed to the ceiling with merchandise. Her desk is bordered by tall metal shelves filled with beribboned tops and printed shirts. Vibrantly hued dresses hang off a number of racks.
Inside this maelstrom of fabric, Sayyeh is practically a one-woman operation. She does all the design work, fabric selection, shipping and public relations and handles the business side of the label. "I am like an octopus in this business," she said as she kept a steady pace walking around to steam a garment here, look at an order there. She has one full-time employee, who sews samples and does other jobs around the office.
Sayyah has always been interested in fashion. In her native Iran, she would go to the bazaar with her mother to pick out fabric that her mother would then fashion into an outfit using a manual Singer sewing machine.
For a while, the designer owned a women's clothing store called Galleria Ricci on Union Square in San Francisco. After falling in love with Southern California's palm trees and warm weather, Sayyeh moved to Los Angeles in the late 1980s and enrolled at the Otis College of Art and Design to study fashion design at night while working for a clothing manufacturer during the day.
When she launched her company in 1991, her first order was from Macy's, which bought $8,000 in goods. "I was really happy. I thought I had made it," she said.
Now her tops and dresses, which wholesale from $30 to $135, are sold mostly at specialty stores across the country. Mezon's biggest market is in Florida, followed by California. "California is a good market because our clothes are made for this kind of climate," Sayyeh said.
For more information, call Arlene Henry Sales at (213) 622-6162.