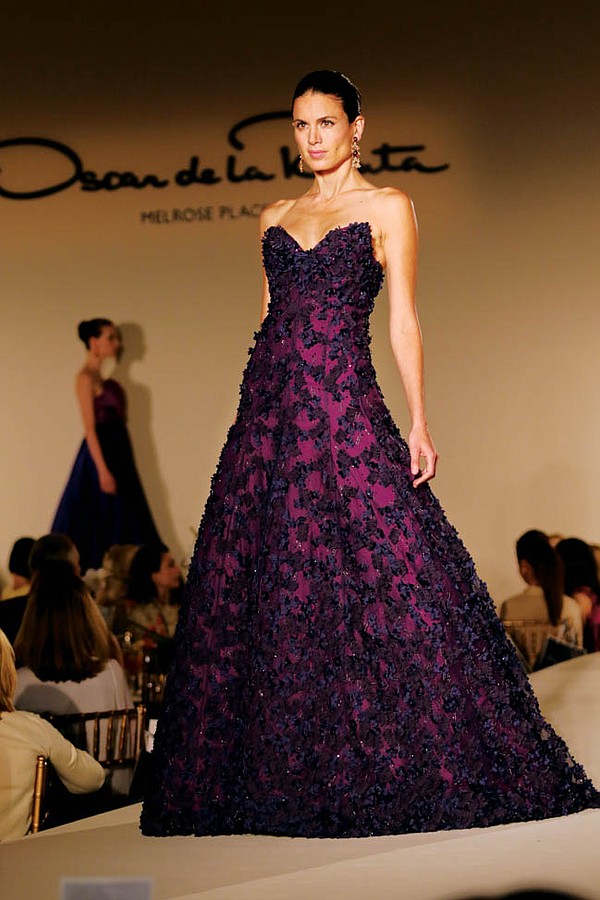 OSCAR DE LA RENTA
Peter Copping's Collection Gets its West Coast Debut at The Colleagues
Photo Gallery
Oscar de la Renta at The Colleagues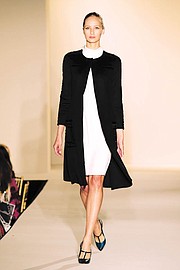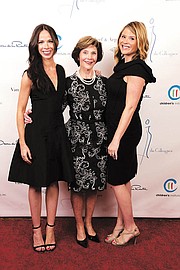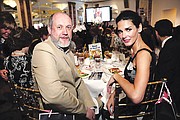 The well-dressed ladies (as well as a smattering of men) of The Colleagues paid tribute to the late designer Oscar de la Renta and welcomed his successor, Peter Copping, who presented his Fall collection for the first time on the West Coast on April 28 at the philanthropic organization's annual luncheon in Beverly Hills.
Members of the group, which is now in its 65th year, packed the ballroom at the Beverly Wilshire hotel for the event, which honored former first lady Laura W. Bush and her daughters, Barbara Pierce Bush and Jenna Bush Hager, with the group's Champion of Children Award.
"Everybody Loves Raymond" actress Patricia Heaton presented the award, recalling The Colleagues' first Champion of Children award winner, former first lady Nancy Reagan, who served as the honorary chairman of this year's luncheon.
"Today we honor another beloved first lady and her two daughters," Heaton said. "Laura Bush is a world-class champion of children, education and women's rights."
The three honorees referenced The Colleagues' work to raise funds for the Children's Institute Inc., the Los Angeles organization that helps more than 24,000 children and their families each year through clinical, early childhood, family support and youth development services.
"As first lady, I met people in challenging circumstances around the world," Laura Bush said. "Right here in our community, there are children who lack the basics of food, shelter, love and safety. Young people need us in their lives. They need to know they are valued and their success matters. Thanks to The Colleagues for your generous support of children in Los Angeles."
In addition to the nonprofit organization's main campus in central Los Angeles, a mid-city campus, as well as facilities in Torrance, Calif., and Long Beach, Calif., CII is currently developing a new facility in the south Los Angeles neighborhood of Watts, which will be designed by architect Frank Gehry.
Bush and her daughters said they were also friends and fans of de la Renta.
"We're thrilled to be here because we loved Oscar," Hagar said. "He played a very special part in all our lives and he's dearly missed."
Laura Bush also offered congratulations to Copping, as well as "a special thanks to all The Colleagues for giving me an excuse to buy a new Oscar de la Renta."
Actress Angie Harmon, a former recipient of the Champion of Children award, served as master of ceremony for the luncheon. Harmon described de la Renta as the "beloved master of style," saying, "He was a true friend of this organization. His immeasurable support will live on forever."
Colleagues President Travis Kranz said the luncheon was an opportunity to "celebrate Oscar's memory, his career and his relationship with The Colleagues," adding her own welcome to Copping: "We're all excited to see your premiere collection."
Copping was previously the artistic director of Nina Ricci, before being chosen by de la Renta to take over as creative director of the Oscar de la Renta business last October. The Fall 2015 collection is his first for the company, and the designer has been on a whirlwind schedule since joining the company. In addition to showing the line at New York Fashion Week, he has been showing the line at charity events and trunk shows across the country before arriving in Los Angeles for The Colleagues luncheon. In addition to the luncheon, there were three trunk shows planned for Southern California.
"It's very exciting to get to know The Colleagues and the good work they do," Copping said. "It's great to meet people and hear what they have to say. It's definitely something I want to continue. I think also people really appreciate it when the designer gets on an airplane and comes to them."
The designer, who said he's quite familiar with Los Angeles, praised the city's warm weather (a welcome change from the New York's overcast skies) and its "good energy."
There was also a video highlighting the life and career of de la Renta and an opportunity for Copping and Eliza Bolen, de la Renta's stepdaughter and executive vice president of the company, to thank The Colleagues for hosting the event.
"Like all of us, Oscar was extremely proud to be involved with The Colleagues," Bolen said.
The event also included a live auction for items such as front-row seats to an Oscar de la Renta runway show in New York, trips to Italy and the Dominican Republic, a $23,700 necklace by event sponsor Van Cleef & Arpels, and an original Oscar de la Renta watercolor sketch.