TRADE SHOW
Building the Supply Chain at Texworld USA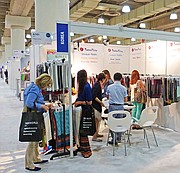 NEW YORK—Two years ago at Texworld USA in New York, Los Angeles knit converter SG Knits met with a potential customer. The two companies stayed in touch, and two years later the potential customer has become an actual one.
"It developed here," said Lauren Greenberg, SG Knits creative director.
Greenberg and her husband, Steve, who serves as SG Knits' chief executive officer and president, were back at Texworld USA during the show's recent July 21–23 run at the Javits Center. The Greenbergs, along with their USA partner, Norberto Menendez, who runsUnited Pacific Group (UPG), a full-package garment production facility in the Dominican Republic, were meeting with larger retailers and brands such as Macy's and Nordstrom as well as California labels such as Splendid/Ella Moss at the show.
"This is a show that's on people's calendar," Steve Greenberg said.
This was the first time at Texworld for Sun Dragon Import, a Los Angeles–based supplier of specialty yarns.
"We want to explore the New York market," said Sun Dragon President Ching Duncan. "By coming here maybe we get a little Canada [and] South America exposure."
Duncan's booth was just a few aisles away from many of her customers, the Los Angeles knitting mills showing in the U.S. section of theLenzing Innovation Pavilion.
"It's great for Sun Dragon to come to show what products we have," Duncan said. "That's what I love to do, to develop new product."
For her domestic mills, Duncan stocks and supplies yarns made from silk, cashmere and Tencel blends. But she's also able to supply fabric made from her yarns for companies producing overseas.
"I never want to finish fabric here in the U.S. out of respect to our customers," Duncan said. "We're set up to do that overseas. If we have the yarn, we can knit and dye in three weeks."
Pat Tabassi, marketing manager for Los Angeles knitting mill Design Knit, said she continues to see interest in domestic production from the attendees at Texworld USA but noted that building the infrastructure can take time.
"It can take some people years to build that business," she said. "We have some customers who will say, 'Let's start a test run with one product and see it through and hopefully build on that.'"
Tabassi said she tries to find ways to help designers and manufacturers envision the final product.
"We like to promote garment dyeing so they see that they can dye it with 20 different finishes," she said. Then the wheels start turning."
At the Buhler Quality Yarns booth, the Jefferson, Ga.–based yarn spinner saw companies such as Brooks Brothers,Eileen Fisher, Belks and Vineyard Vines.
For many, the prospect of producing domestically—or in the Western Hemisphere—provides an opportunity to prduce quickly and chase orders.
"The advantage is to be able to chase programs that are selling—that's the plus for the Western Hemisphere," said David Sasso, Buhler's vice president of sales.
Designers and piece-goods buyers were looking for "cellulosics that perform like synthetics" as well as comfort yarns such as Modal, Tencel and cotton, said Buhler Textile Engineer Victor Almeida.
Mt. Pleasant, N.C.–based yarn spinner Tuscarora was finding increased interest in natural fibers such as cotton, wool and flax as well as more requests for eco-friendly and sustainable yarns made from recycled polyester or re-purposed fiber waste.
Business was bustling at the Ashford booth, according to Anthony G. Mone, vice president of sales for the Gardena, Calif.–based company, which produces fabrics in Asia.
"Yesterday was particularly good," he said on the final day of the show. "A lot of very large accounts came here like Macy's, Danskin,Sears, American Apparel and Urban Apparel Group."
Many were looking for lighter-weight fabrics for leggings, Mone said.
Ashford recently introduced a custom digital printing service that will reproduce photos on gift items such as beach towels and blankets.
"We'll even put it on your dog bed," Mone said, adding that the company is targeting the service as a gift item for cruise lines and wedding planners.
The company is installing digital printing machines in China for a 60-day turnaround and in the U.S. for a nine-day turnaround.
First timers
This was the first time at Texworld for Los Angeles knitters Unitex and Asher Fabric Concepts.
"They are looking for a lot of novelty and innovation," said Unitex owner Chris Hebroni. "We have a lot of larger brands looking for novelty that they can't get offshore at the same quality."
At Asher, Sales Coordinator Joyce Adams said she saw some of the company's existing customers, such as NYDJ, Mara Hoffman and Destination Maternity, as well as several activewear manufacturers looking for bottomweight fabrics.
This was also the first time at Texworld USA for Mumbai, India–based Panna Textile Industries PVT. Ltd. The 50-year-old company produces textiles and hand-worked scarves for large European brands. Representative Akash Poddar was stopping attendees in the aisle to show them the workmanship on a hand-painted, embroidered scarf Panna created for Spanish brand Desigual.
"USA is a market we're looking to get into," Poddar said.